DSP3+ Odometer Correction Tool:
1.Full touch screen
2.One button upgrade
3.Real time data interaction with PC via USB
4.World top R & D team, professional after-sales group to service
5.98% coverage rate for digital odometer, airbag modules, car radios,car immobilizers
6.Simple and clear operation interface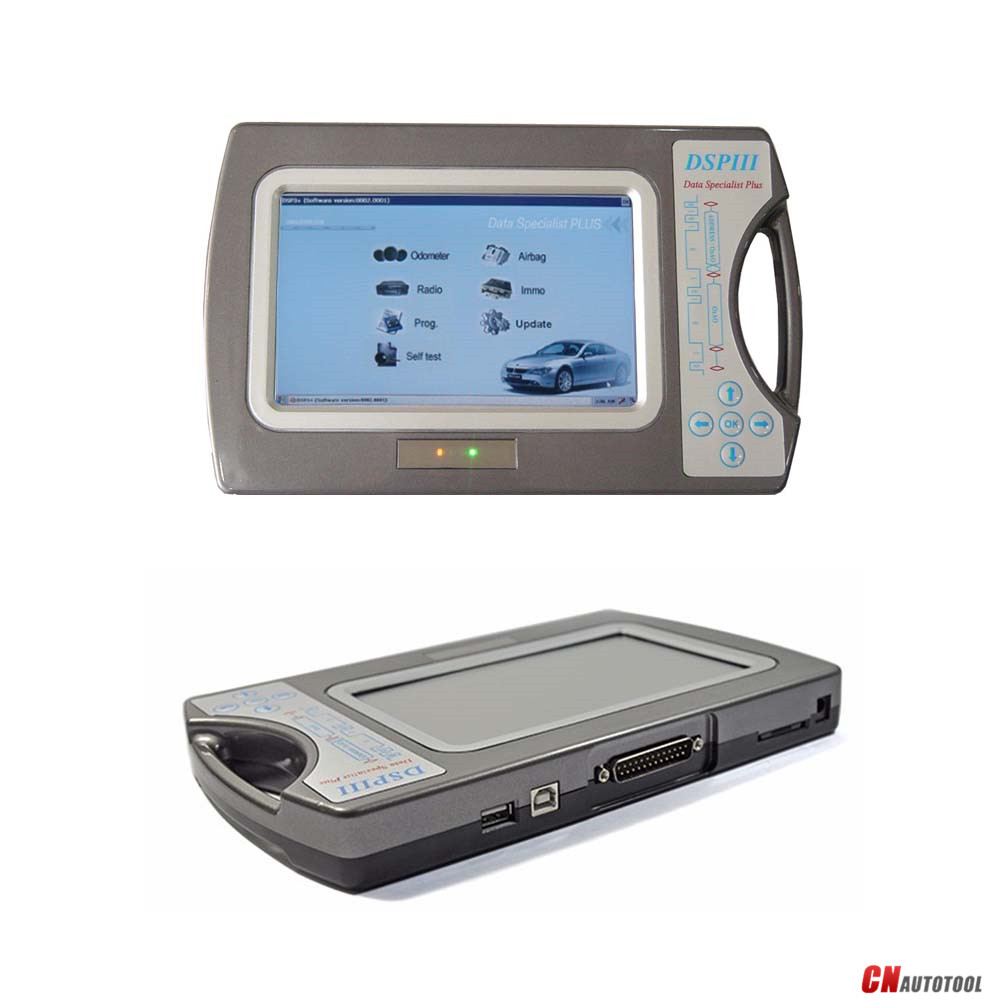 DSP+ instruction document:
http://www.smelecom.com/sm/download.htm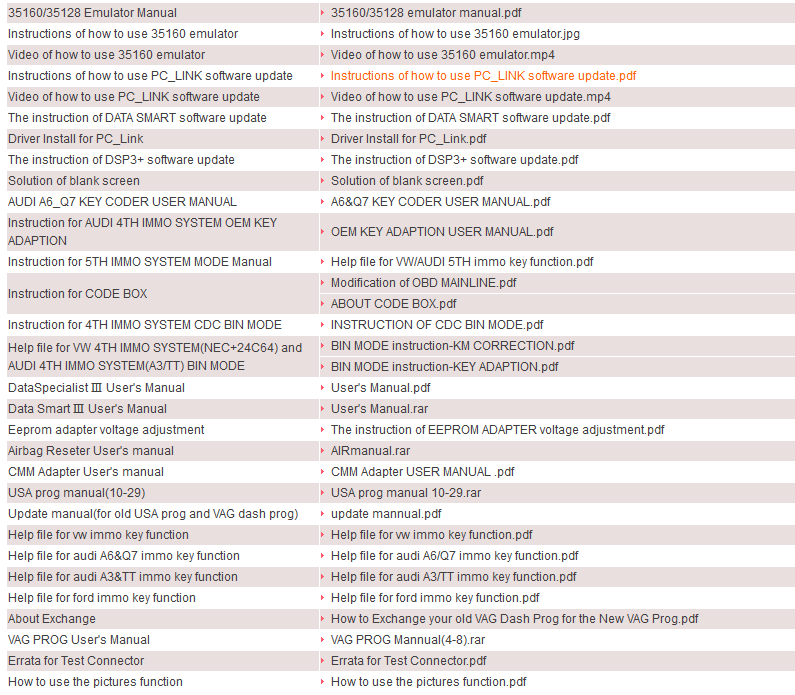 DSP3+ FULL
The most complete version to cover odometer mileage adjustment, airbag reset, some immobilizer programming and radio decoding. No limitation on odometer software! Can be used as stand along device programmer to access any EEPROM and MCU found in automotive industry these days.
Software: "Full software" includes FULL ODOMETER and some AIRBAG/RADIO/ IMMO coverage using OBD2 and direct programming of EEPROMs and MCUs. For complete coverage advice with "Vehicle List" below.
Hardware: PDA main unit. Includes the full set of all available adapters: EEPROM, Motorola, NEC, TMS 374, HC711, HC908, 9(S)12 in-circuit, HC705, EWS, NDM457, ST624, TMS 370, CMM, OBD, JC, AVR/PIC, D80/160, Multiplex, C-04, Denso. Includes all connectors and clips: MERCEDES-38 connector, BWM-20 connector, BMW CAS cables, Mercedes cluster cable, FCA chrysler cable, SD card, WiFi adapter, SOIC8 clip, touch-holders (T-01, T-02, T-03, T-04), USB cable, power cables.
The DSP3+ is the PDA-like device with touch screen display, running well known and convenient Windows CE system. Boots up within 30 seconds! Featuring PDF, JPG, TXT files viewers, IE for Internet browsing via USB connection. Integrated HEX editor to modify/read/write/upload ".bin" format files. Internet software updatable. Password protected login. We are always working on releasing of new updates to cover your needs. Most "direct programming" updates are free, while OBD2 updates are subject to extra charges. "Data Specialist Plus 3+" is a high-quality embedded system, which offers a maximum flexibility and working control.
USAPROG FULLD
Complete ODB2 USA and Asian market coverage, ability to read/write/modify the EEPROMs and MCUs found on vehicles instrument clusters and ECUs.
Software: "Full Edition" ODOMETER, AIRBAG, RADIO, IMMO (excluding OBD2) menus with USA/Asian vehicles coverage via OBD2 and direct programming of EEPROMs and MCUs. For complete coverage read the "Vehicle List" below.
Hardware: Main unit, OBD Adapter with cables, Eeprom Adapter, Eeprom Clip 1, Touch Holder 1 and 2, USB cable, Wi-Fi adapter, Motorola Adapter, Touch Holder 3 and 4, CMM Adapter, SD card and Power cables.
The USAprog is the most demanded device on the market these days designated for digital odometers programming and airbag modules reset. Comes with two versions for your convenience. Solid hand-held unit, intuitive human interface, ability to upgrade up to the "Data Smart 3+" , regular updates, continuous technical support, warranty, price options make this tool a #1 in the industry. The USAprog has built-in scripts to decrypt mileage or reset "crash data" on airbag computers for most vehicles in USA, Canada and Mexico. USAprog can deal as a stand-along programmer to work with any EEPROM or MCU devices found in automotive industry illuminating user to buy different expensive device programmers! Built-in HEX editor to modify, upload or analyze read data. Ideal tool for professional instrument clusters repair shops, Miles to KM conversion businesses , mobile units and newbie.
DSP III Full Package content:
– PDA main unit, with full software authorization
ACESSORY :
1.MAIN CABLE
2.POWER CABLE
3.USB CABLE
4.FCA12+8 CONNECTOR
5.14PINOUT * 2
6.8PINOUT * 2
7.EEPROM PCB * 2
8.SOIC CLIP
9.TOUCH HOLDER * 4(T-01,T-02,T-03,T-04)
10.BMW CAS CONNECTOR * 2(C-02,C-03)
11.BENZ ODOMETER CONNECTOR(C-01)
12.908 SOCKETS * 2
13.711 SOCKETS * 8
14.705 SOCKET
15.TMS SOCKET
16.NDM457 SOCKET
17.99 CHEROKEE
18.TEST CONNECTOR
19.WIRELESS USB ADAPTER
Adapters:
1.EEPROM Adapter
2.MOTOROLA Adapter
3.HCS12 IN-CIRCUIT Adapter
4.EWS Adapter
5.TMS374 Adapter
6.NEC Adapter
7.TMS Adapter
8.ST624X Adapter
9.NDM457 Adapter
10.HC08 Adapter
11.HC(7)11 Adapter
12.705 Adapter
13.CMM Adapter
14.OBD Adapter
15.JC Adapter
16.M35080 Adapter
17.D80/160 Adapter
18.MULTIPLEX Adapter
19.DENSO Adapter(T-05,T-06)
If you have any problems, don't hesitate to contact us, send email to sale@cnautotool.com. FREE, Professional & Unlimited Technical Support, Factory Price!