CAT Caterpillar ET Diagnostic Tool from Caterpillar provide the capability to access Electronic Control Modules (ECMs) from a personal computer. Many job-critical tasks can be performed with an electronic service tool. The user can display the status of a group of parameters (temperatures, pressures, etc.) simultaneously, view active and clear logged diagnostics, display the current configuration of an ECM and much more.
The service tool works with a communication adapter to allow connection to an ECM. A graphical interface makes this software quick to learn and easy to use. A separate pull-down menu for each function enhances the "ease of use." The version and identification of the ECM is automatically retrieved and is displayed on a summary screen when the program is started. Diagnostic tests and calibrations can also be performed.
Retrieve engine totally for fuel used, miles traveled, and hours operated.Display status of all parameters, such as engine speed, throttle position, timing advance, fuel flow, etc.View active and logged diagnostic codes to identify faulty sensors.
What can I do with one CAT Caterpillar ET Diagnostic Tool: CAT Communication Adapter III has to work with a computer, and we users can  display the status of a group of parameters (temperatures, pressures, etc.) details:
1.Display Logged Event Codes to show engine over speeds, High temperatures, fuel consumption, etc;
2.View ECM's current configuration and change user settings;
3.Perform diagnostic tests and calibrations, and calibrate;
4.Electro-mechanical and electro-hydraulic components;
5.Context sensitive help leads operator through every task diagnostic tools Cat ET can perform
6.Data Logger and Data Log Viewer allows recording of ECM signals for delayed troubleshooting capability.
Caterpillar ET is available with the language I want:
The most important reason why I choose Auto key Programmer CAT Caterpillar ET Diagnostic Adapter III is that it is available with the language what I want, the language it supports includes: Danish, English, French, German, Italian, Japanese, Portuguese and Spanish
Support car list of CAT Caterpillar ET Diagnostic Tool :

With the CAT Diagnostic Tool, you can:
View active and logged diagnostics
View events where irregularities occurred and were logged by the ECM
View the status of a group of parameters (temperatures, pressures, etc.) simultaneously
Record and log performance data
Graph a group of status parameters
View the current configuration of an ECM
Change ECM configurations
Perform diagnostic tests
Perform calibrations
Print reports and diagnostic results
For some machine and engine products, additional functionality has been included with the service tool program
Package 1:
1.Real CAT et3 Comm Adapter III (it's real cat et 3,not adapter 2,please check Communication port)
2.J1939/J1708 Cable (from device to your truck)
3.ET software DVD (for windows XP or windows7 32bit system)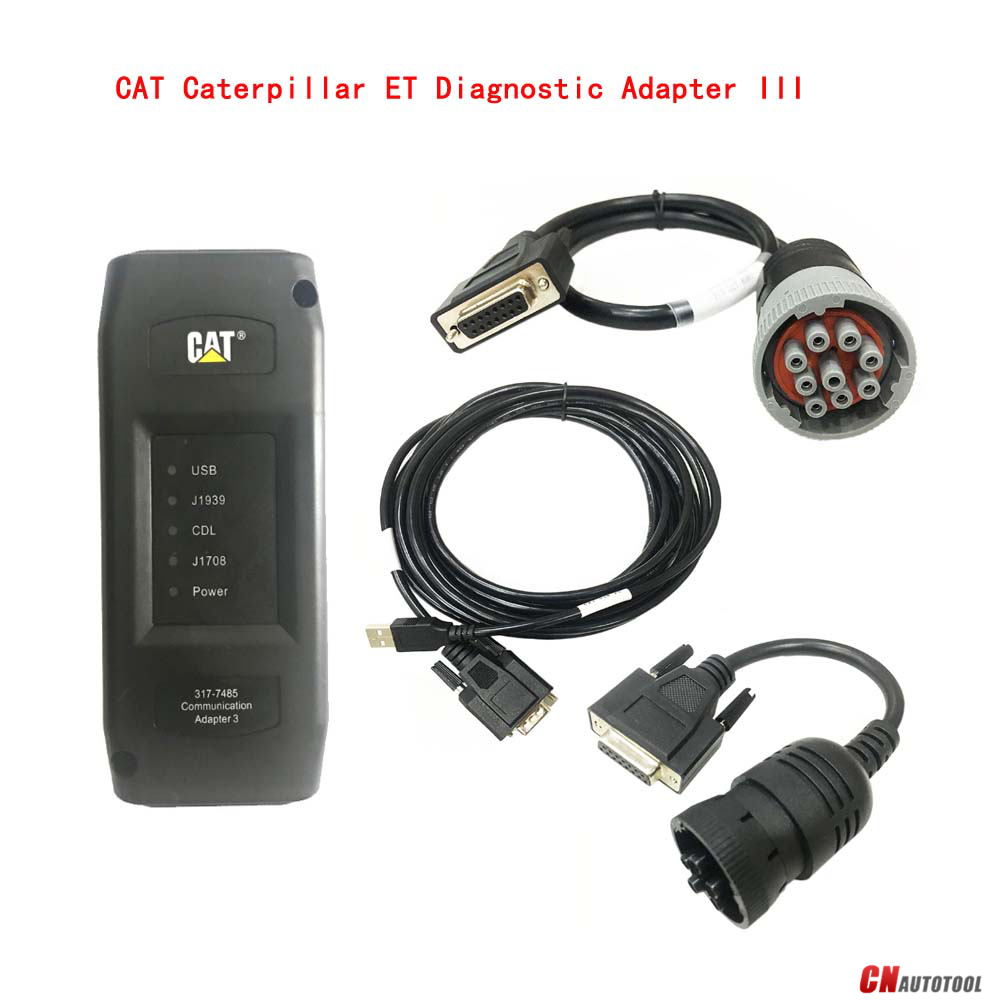 Package 2:
1.Real CAT et3 Comm Adapter III (it's real cat et 3,not adapter 2,please check Communication port)
2.J1939/J1708 Cable (from device to your truck)
3.ET software DVD (for windows XP or windows7 32bit system)
4. 14PIN cable(diagnose part new cars)