WOYO PDR007 is a dent repair tool for auto maintence. WOYO PDR007 Auto Body Paintless Dent Repair Kit Tool is the first dent fix device which is from china. it come with 110V or 220V-240V vlotage optional. WOYO PDR007 will pay for itself by rpeairing six cars, before you wanna got one of it, you should read WOYO PDR007 FAQ AS Follows:
WOYO PDR007 Product Description:
1.Simple, easy to use, low cost of learning
2.Compared with the traditional way of demolition and repair, speed 6 times faster delivery of owners, improve shop utilization, rapid recovery of investment
3.Two operating modes to adapt to different needs:
①. Time mode
②. Power mode
4.High-precision control, quality assurance, operational safety
5.Large-screen display, precise control, real-time monitoring
6.Voltage: 220~240V
Frequency: 50/60Hz
Fuse: 10A
Max Voltage: 250V
Frequency: 40~45KHz
Max Power ≈ 800W
Europ Plug
English Menu
Hot sale body repair tools. It is WOYO PDR007.
WOYO PDR007 is a high-precision equipment, due to regional differences in parameter format, may not be applicable in some areas, please know before buying. Use this equipment only in accordance with local laws.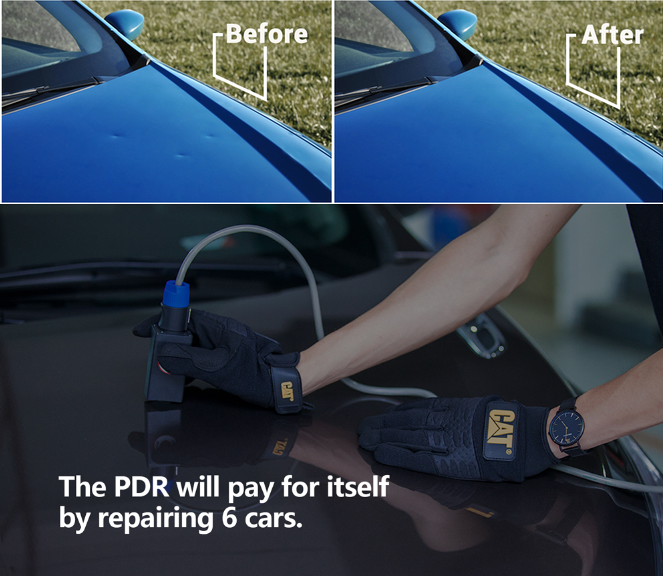 How to work? ( What is the theory?)
Unlike traditional PDR, the WOYO PDR adopts magnetic induction heating and releases the dents tension, then adsorbs the depression parts, and finally recovers to original state.
What are the differences between WOYO PDR and traditional dent remove tool?
Free disassembly,Traditional repair tools use hook, reach into the interior of sheet metal, and then pull the dent parts. Disassembling auto doors or windows may be necessary. But, WOYO Scanner PDR can work directly on the dent parts.
Efficiency increased significanty
WOYO PDR may take 30s-3m.the traditional repair tool takes at least 30 minutes. Besides the spray shall take 24 hours
Exquisite workmanship
the dent part is smooth after WOYO PDR. the traditional repair tools may leave some small bumps.
What kind of dentcan be repaired
Adaptive Range
The equipment is for smooth dent such as the following graphs
Non Adaptive Range
a. the following dead angle dent
aluminum body does not apply
What part of auto body can be repaired?
Hood, door, roof
Are you a direct manufacturer or trading company?
We are a direct manufacturer, we have our own machine and work plant. We can produce products according to your requirements. Welcome to our factory for visiting.