MAN T200 is the latest original diagnostic tool designed for maintenance of trucks, buses and other heavy vehicles made by MAN. This tool works with original MAN diagnostic software MAN CATS II (version 11.01).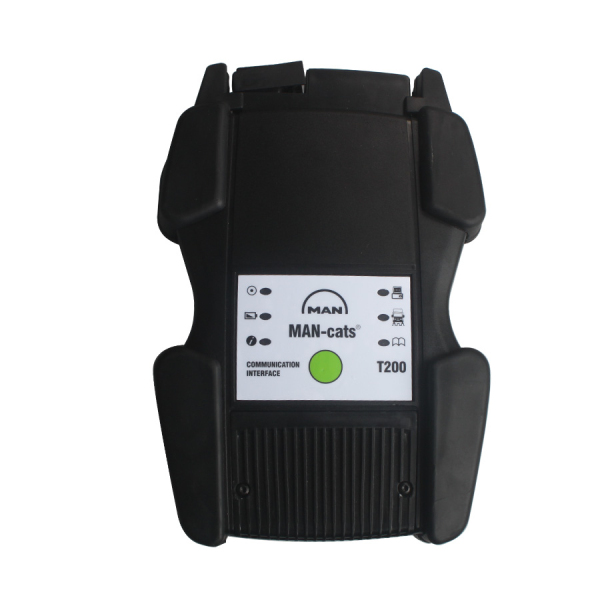 MAN T200 supports very wide range of MAN vehicles due to compatibility with older vehicle models and older diagnostic protocols and due to compatibility with vehicles equipped with CAN BUS diagnostic system. T200 helps you maintain almost all MAN vehicles at your workshop. Suitable for large MAN services and small workshops. T200 comes in kit with necessary cables, notebook PC and original diagnostic software (installed on PC).
Heavy Duty Truck Scanner MAN cats T200 malfunctions, which repair malfunctions in the brains, how to repair failures, parts numbers and locations on parts of MAN vehicles, how to find out what way should be taken when problems are encountered, and how to exchange information about the problem in the vehicle with this description detection device is a unique and unique product designed for use in MAN vehicles for services in accordance with the instructions sent by car.
Languages Supported: German, English, French, Spanish, Italian, Norwegian, Finnish, Portuguese, Danish, Dutch, Polish, Russian, Croatian, Turkish, Romanian, Greek, Czech, Swedish, Hungarian, Slovenian, Chinese, Korean, Bulgarian. Supported systems
Notice:
There have 2 options for this tool :
1. Select the software in CD , need you install by yourself .(Its complex to install and active the software)
Support win 7 win8 win 10 XP system.
System requirement
Dual-Core CPU
2G memory
Hard disk more than 160G
2. Choose the software installed in Dell D630 laptop , you no need to install the software , you can use it directly when you get the product .
Examples of Diagnosable Systems:
• Electronic brake systems (EBS).
• Electronically controlled air suspension (ECAS).
• Engine regulation (EDC).
• Retarder.
• Gearbox.
• Air-conditioning systems.
• Central computer.
• Instrumentation.
• Door module.
• Airbag.
• And much more.
Possibilities of Use:
• Simple testing of actuators.
• Visualisation and assessment of current sensor signals.
• Identification of control unit in assembled condition.
• Depiction of all stored diagnosis entries.
• Fast orientation on vehicle by means of integrated overview wiring diagrams.
• HD-OBD scantool (Heavy Duty On Board Diagnosis), read-out and presentation of data relevant to exhaust gas.
Package Including  :
1pc x  T200 Communication Interface
1pc x  OBD2 Main Cable
1pc x 12-pin Round Cable
1pc x OBD2 Adapter Cable
1pc x USB Cable