Original DSPIII+ DSP3+Odometer Correction Tool Full Package Include All Software And Hardware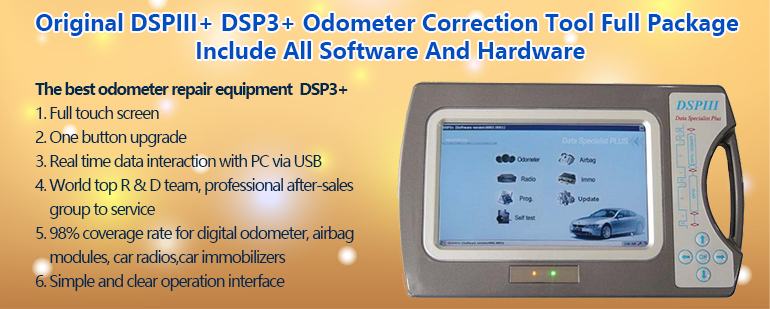 Introduction
DSPIII+ Odometer Correction Tool is the most complete programming device for digital odometers, airbag modules, car radios, car immobilizers.
It is a high-quality embeded system, which offers a maximum of flexibility and working comfort.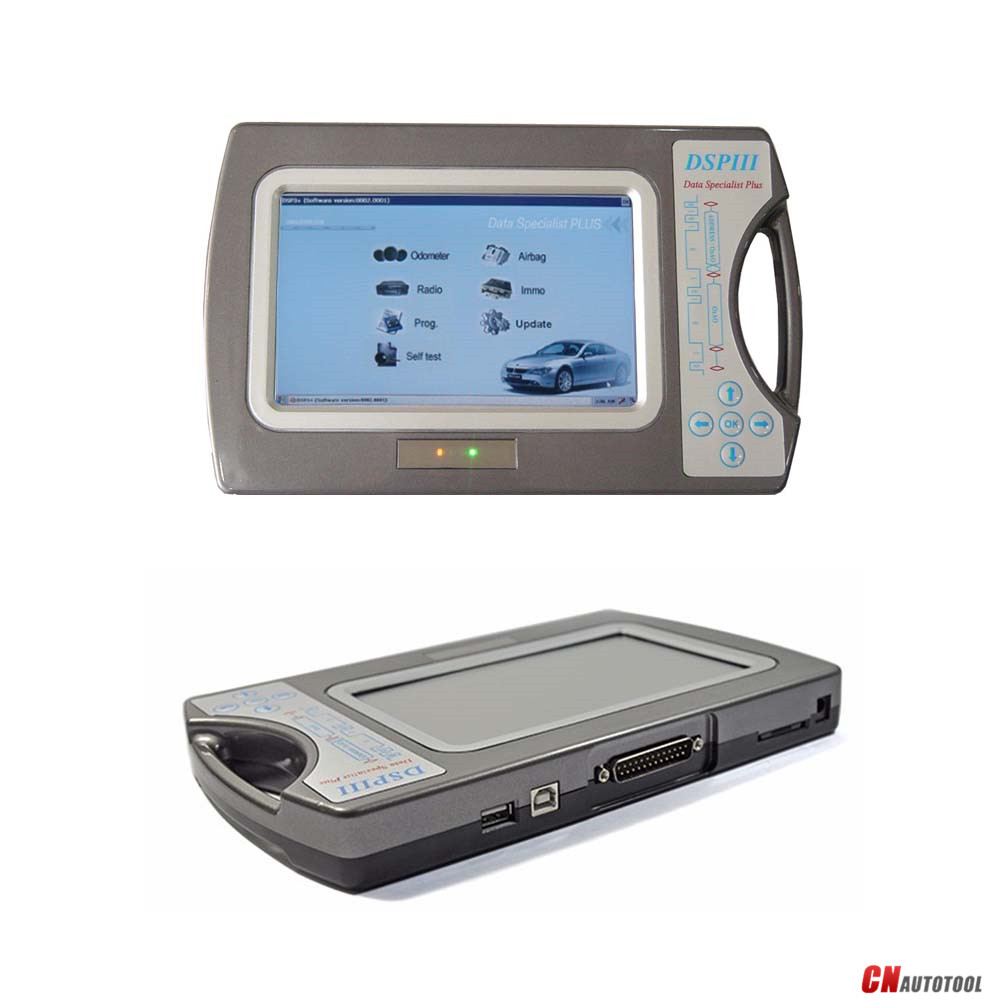 Technical reference
Power by ARM 10 TDI and CORTEX ARM cores, speeds up to 600MHZ, 800*480 TFT LCD and touch screen(7.0″.16:9).
Convenient keyset. USB host and USB device. SD card interface. 128MB NandFlash, 128MB SDRAM.
Self-check function integrated in system.
Enhanced OBD functions, including CAN-BUS / J1850 / CCD-BUS / ISO9141 / SPI protocols.
Intuitive operability by full menu and picture guidance. All data can be edited, stored and loaded.
Color connection picture is on the screen whenever you need.
The stored data can be transferred to a PC by USB port or SD card, and also can be transfer to wherever you want  directly by internet.
Update directly from internet.
Odometer full package (include all software and hardware)
Odometer full package:
Machine, OBD cables, EEPROM, MOTOROLA, NEC, TMS, HC711, HC908, HCS12 in-circuit,
HC705, EWS, NDM457, ST624, TMS374, CMM, JC adapter, BENZ-38 connector, BWM-20 connector,
BMW CAS cables and BENZ cluster cable, SD card, clips, touch-holders, USB cable, Power cables, with full soft.
Software:
OBD functions are all active.
DSP III Full Package content: 
- PDA main unit, with full software authorization
ACESSORY :
1.MAIN CABLE
2.POWER CABLE
3.USB CABLE
4.FCA12+8 CONNECTOR
5.14PINOUT * 2
6.8PINOUT * 2
7.EEPROM PCB * 2
8.SOIC CLIP
9.TOUCH HOLDER * 4(T-01,T-02,T-03,T-04)
10.BMW CAS CONNECTOR * 2(C-02,C-03)
11.BENZ ODOMETER CONNECTOR(C-01)
12.908 SOCKETS * 2
13.711 SOCKETS * 8
14.705 SOCKET
15.TMS SOCKET
16.NDM457 SOCKET
17.99 CHEROKEE
18.TEST CONNECTOR
19.WIRELESS USB ADAPTER
Adapters:
1.EEPROM Adapter
2.MOTOROLA Adapter
3.HCS12 IN-CIRCUIT Adapter
4.EWS Adapter
5.TMS374 Adapter
6.NEC Adapter
7.TMS Adapter
8.ST624X Adapter
9.NDM457 Adapter
10.HC08 Adapter
11.HC(7)11 Adapter
12.705 Adapter
13.CMM Adapter
14.OBD Adapter
15.JC Adapter
16.M35080 Adapter
17.D80/160 Adapter
18.MULTIPLEX Adapter
19.DENSO Adapter(T-05,T-06)
For more information about Mileage Correction Tool ,please visit our website sale@cnautotool.com