Cat et Caterpillar Electronic Technician Software:
Brand: Caterpillar
Region: WorldWide
Support Multi-language:English, Chinese, Danish, French, German, Italian, Japanese, Portuguese, Russian, Spanish
Support All cars of CAT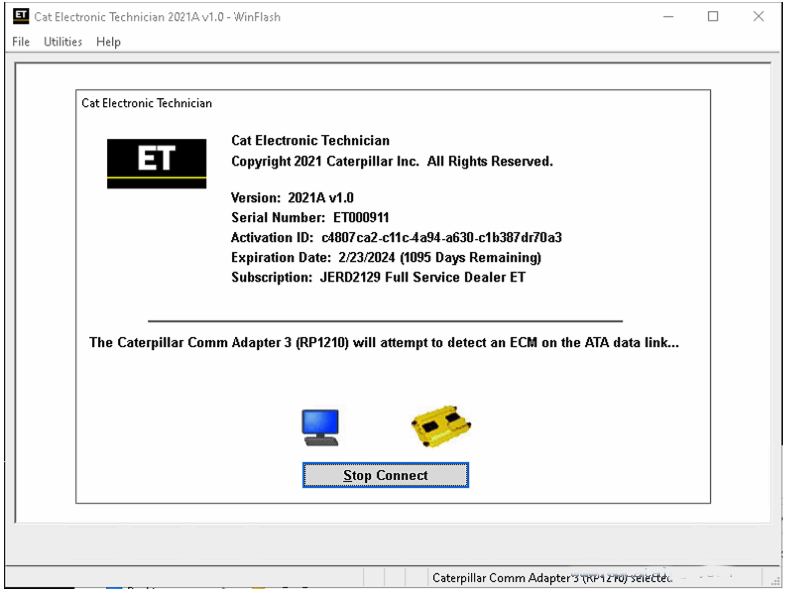 We will not issue a refund for this downloadable product as remote support can be given via Teamviewer. If we're not able to install it successfully for you then we are more than happy to refund you the money **
This version does not include factory password, if you need the factory password version you can search my other posts
Cat Electronic Technician is a diagnostic software that can help technicians to diagnose existing and potential problems with their electronically controlled Caterpillar Engines and Machines
This diagnostic application allows you to: Change vehicle parameters Lock / unlock parameters Diagnostics and reconfiguration Reading ECM flash error codes
This program works and Caterpillar 2021A dealer distributor of CA3 communication adapter diagnostics and other diagnostic adapters include Nexiq.
The Caterpillar ET 2021A program provides complete information and troubleshooting of your CAT machinery.
Among its features, it is found that the cat ET 2021A has the ability to perform analysis and testing of all sensors and systems in real time.
And it also allows you to see all the error codes of the Caterpillar machinery and has integration with Caterpillar sis in this way to see all the technical information on how to solve the fault.
Features
Display, graph and log status parameters.
Retrieve prognostic data including histograms, engine totals for fuel used and miles traveled.
View active diagnostics and clear logged diagnostics. View events where irregularities have occurred and have been logged by the ECM.
Perform calibrations to enhance performance of the ECM.
Customize the ECM with application-specific settings.
Over 100 custom Diagnostic, Information and Service features including:
– 2D and 3D Histogram plotting capability (engine software
support required).
– Custom Status screen groups
– Snapshots (Download and display snapshot data recorded by the
ECM)
– Configuration Aid that allows upload/download of same
configuration to multiple control modules
Multi-Language: English, Deutsch, Spanish, Italian, German, Chinese, Indonesian, French
Operating System: Win 10, Win 8, Win 7, Win Vista, Win XP
Download Size: 571 MB
Update: 2021
Caterpillar electronic technician 2020C with WinFlash future is an updated version of the caterpillar dealer diagnostic software that can help technicians to diagnose existing and potential problems with their electronically controlled Caterpillar Engines and Machines.
To get the vehicle information the Cat ET software must be connected to the Electronic Control Module (ECM). For this purpose, you need a suitable diagnostic link adapter (DLA), for instance, Genuine CAT Comm Adapter III
The list of supported CAT machines and engines can be found below(if your vehicle is missing, please contact us we will double check):
Engines:
Electric Power
Electric Power Generation
Industrial
Marine Power Systems
Oil and Gas
Machines:
Articulated Trucks
Asphalt Pavers
Backhoe Loaders
Cold Planers
Compactors
Dozers
Drills
Excavators
Feller Bunchers
Forest Machines
Forwarders
Harvesters
Hydraulic Mining Shovels
Knuckleboom Loaders
Material Handlers
Motor Graders
Off-Highway Trucks
Pipelayers
Road Reclaimers
Site Prep Tractors
Skid Steer and Compact Track Loaders
Skidders
Telehandlers
Track Loaders
Underground – Hard Rock
Underground – Longwall
Underground – Room and Pillar
Utility Vehicles
Wheel Dozers
Wheel Excavators
Wheel Loaders
Wheel Tractor-Scrapers