I used CGDI BMW MB for three months. I am very pleased to share related information with you.
Based on my experience, I have to say CGDI MB is a powerful auto key programming tool, which can calculate the password fast at present.
Purchased CGDI off cardiagtool. It cost me €640.00 with free shipping via DHL.
Software version:
V2.8.1.0 (updated on Dec.2018)
Operating system:
Windows 7
Setup:
It's very easy to install cgdi software. You will use it quickly.
Activation:
After you receive the CGDI PROG MB, you need to activate it by the following guide below.
Download Benz Monster software from official website http://www.cgprogcar.com/?langid=en, there will be user manual in the software catalogue
2. Install software on your laptop (It can work on Windows 7/8/10), activate device yourself from menu Online Store.
Send the serial number to customer service to active your CGDI.
After finishing activation, restart CGDI Benz and the Benz Monster software.
Tokens:
CGDI PROG MB needs tokens for password calculation.
Plan A: Two free tokens can be used every day for 180 days. You need to subscribe CGDI MB 180-Day Tokens when the license gets expired.
After you pay for it, It can calculate online twice free every day again.
Plan B: One free token every day all the time. It won't get expired anymore. If you want to get more tokens, you need to pay 5 usd each token.
Features:
Calculate the password online
Work with BE keys and original keys
Support Benz all key lost: models including 211, 209,204, 207, 212, 166,246,197,172,164+, 216 etc.
Run fast when adding keys to Mercedes: collection time 1'50s, password calculation time 40s, 99% get password for one time calculator
EIS/EZS Functions:
Can read EIS data via OBD, no need to distinguish the EIS/EZS model.
Can display the key status and directly disable the key position.
Can display EIS Number, can distinguish the Benz model
Can display EIS status.
Automatically identify EIS model.
Automatically identify CAN protocol
Key data generation:
Can generate the key data of HC05/908/912/9S12/NEC EIS/EZS
Time: 26 seconds
Format: 41/51 (41 format is smart key data)
Infrared Key:
Can directly read key pin code via infrared on parts of 209/211/220/215 EIS.
Can read/write EIS via infrared.
Vehicles supported:
Mercedes-Benz A series (2004 -)
Mercedes-Benz B series (2005-)
Mercedes-Benz C Series (2001 – , including 210)
Mercedes-Benz E Series (2001-, including 203)
Mercedes-Benz CL series (2001-)
Mercedes-Benz GLK (2004-)
Mercedes-Benz ML series (2003 -)
Mercedes-Benz R series  (2003 -)
Mercedes-Benz G series (2003 -)
Mercedes-Benz S Series (2001 -, including 220)
Mercedes-Benz SLK  (2003- )
Mercedes-Benz SLS (2004 -)
Mercedes-Benz Vito (2003-)
Mercedes-Benz Sprinter (2003 -)
Mercedes-Benz Vito (2003 -)
CGDI MB Software Display:
EIS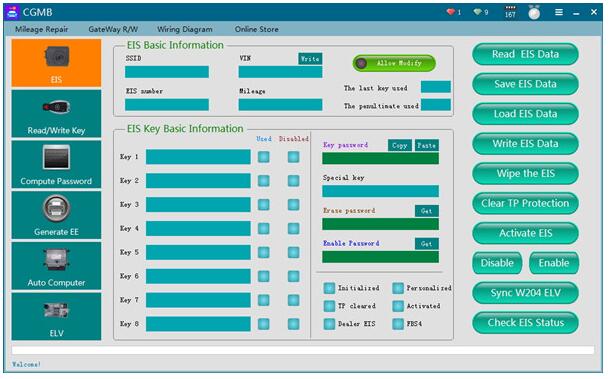 Key read and write
Computer password
EE generation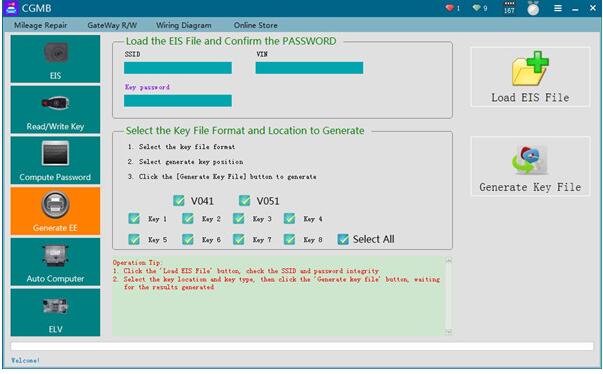 Auto computer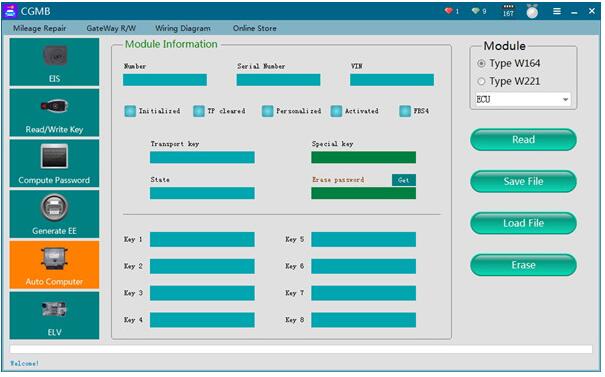 ELV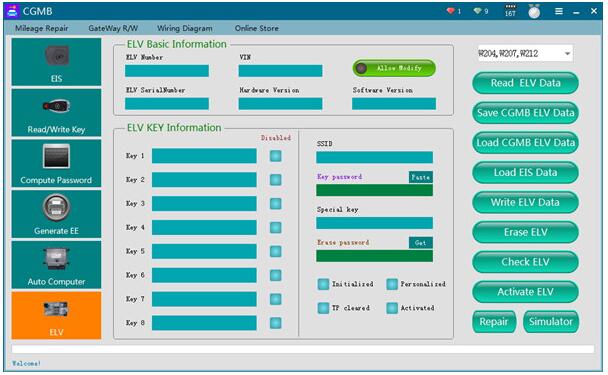 wp-admin May 2, 2019 Auto key ProgrammerBMW key programmer, CGDI BMW, CGDI Prog, CGDI Prog BMW, CGDI Prog BMW MSV80, CGDI Prog user manual 0 Read more >