Caterpillar ET 2019C is a good replacement for the CAT ET 2018b, 2019A,2019B Electronic Technician Diagnostic Software. Cat electronic technician 2019C is an updated version of the caterpillar dealer diagnostic software. The program easy to works with the Caterpillar Communication Adapters family. This diagnostic app allows you to: Change vehicle's parameters Lock / Unlock parameters Diagnose and reconfigure Reading of error codes ECM Flash.
2019C Caterpillar Electronic Technician software With CAT ET 3 Cat caterpillar adapter 3 support caterpillar diagnostic till 2019..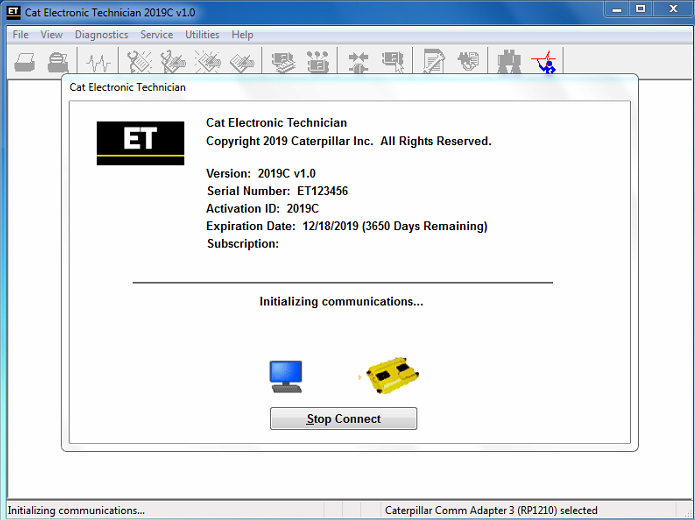 CAT Caterpillar ET Diagnostic Adapter III retrieve engine totals for fuel used, miles traveled, and hours Operated. CAT Caterpillar ET Diagnostic Adapter display status of all parameters, such as engine speed, Throttle position, timing advance, fuel flow, etc.
The PC-based service tools from Caterpillar provide the capability to access Electronic Control Modules (ECMs) from a personal computer. Many job-critical tasks can be performed with an electronic service tool. The user can display the status of a group of parameters (temperatures, pressures, etc.) simultaneously, view active and clear logged diagnostics, display the current configuration of an ECM and much more. The service tool works with a communication adapter to allow connection to an ECM. A graphical interface makes this software quick to learn and easy to use. A separate pull-down menu for each function enhances the "ease of use." The version and identification of the ECM is automatically retrieved and is displayed on a summary screen when the program is started. Diagnostic tests and calibrations can also be performed.
Languages currently supported: Danish, English, French, German, Italian, Japanese, Portuguese and Spanish.
Specification:
1. ECM Summary screen lists every control module on equipment
2.Being tested and gives information on these modules.
3. Fast hookup and real time display of systems status. Displays ,readings such as rpm, boost, pressures, temperatures, etc. for Easy troubleshooting.
4. Identifies faulty sensors, harness connectors, and system parameters which are out of specification. Allows customers
5. To help dealer identify problems without visiting machine.
6. Identifies intermittent sensors and wiring problems during Machine operation and keeps a record of each one. Shows when problem occurred and how often it happened.
7. Added information to allow customer to assist dealer in diagnosing and repairing problems. (Troubleshooting Help is not built in with in the program, you will still need go back to books in order to follow a repair description and steps in each Fault Code display within the program).English and metric units of measure integrated help file to easy learn the "How To" around the software.
Features
Display, graph and log status parameters.
Retrieve prognostic data including histograms, engine totals for fuel used and miles traveled.
View active diagnostics and clear logged diagnostics. View events where irregularities have occurred and have been logged by the ECM.
Perform calibrations to enhance performance of the ECM.
Customize the ECM with application-specific settings.
Over 100 custom Diagnostic, Information and Service features including:
– 2D and 3D Histogram plotting capability (engine software
support required).
– Custom Status screen groups
– Snapshots (Download and display snapshot data recorded by the
ECM)
– Configuration Aid that allows upload/download of same
configuration to multiple control modules
Support car list of CAT Caterpillar ET Diagnostic Tool :