Description: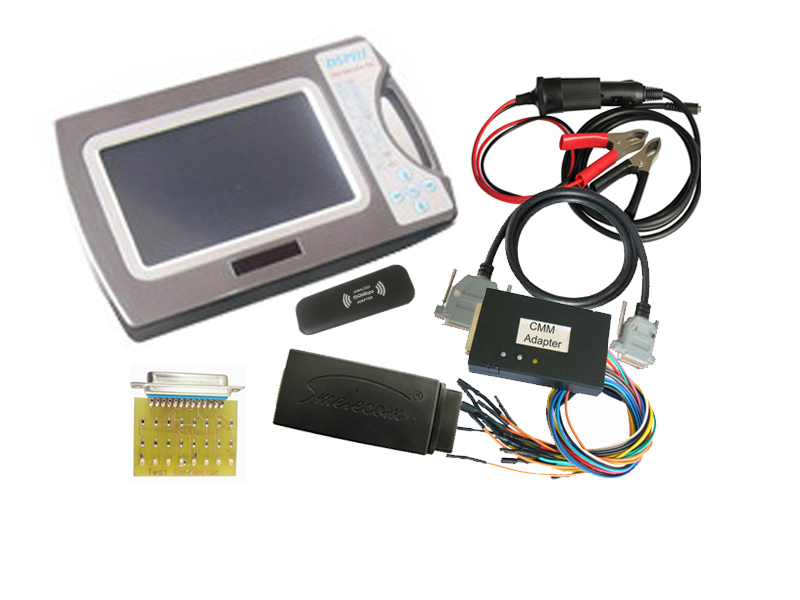 V2019 Super DSP 3 Plus is a new upgraded version of DSPIII V2018. The new version will support most of the MQB platform models and cover all vehicle models in the old version !
Password to start the device: 123456
Two Option available:
Option 1: V2019 Super DSP III Plus   -Red color
Option 2: V2018 DSP III    -Gray color
The differenece between V2019 Super dsp III +  and  v2018 DSP III :
-V2019 DSP III Plus support most MQB platform models.
-V2019 DSP III Plus support all vehicle models of v2018 DSP III.
-V2018 DSP III software version is v2017.09 support year 2010 -2017.
Language: English
–Super dspiii is the most complete programming device for digital odometers,  It is a high-quality embeded system, which offers a maximum of flexibility and working comfort.
-Super dspiii supports  AUDI/VW/ SKODA/ SEAT/ BENTLE/Benz/ LAND ROVER/  JAGUAR/ VOLVO/ PORSCHE 2010-2018 years of models
Technical reference:
-Powered by industrial grade core board with Freescale i.MX28x processor, speeds up to 650MHZ, 800*480 TFT LCD and touch screen(7.0″.16:9). Convenient keyset. USB host and USB device. SD card interface. 128MB NandFlash, 128MB DDRII.
-We use industrial grade components to ensure the stability and reliability under a wide temperature range, from -40℃ to +85℃.
-Whole machine passed EMC industry 4 grade quality assurance and durable performance, the product stability greatly improved.
-The Wince6.0 operating system can ensure the software platform reliability and compatibility.
-Self-check function integrated in system.
-Enhanced OBD functions, including CAN-BUS / J1850 / CCD-BUS / ISO9141 / SPI protocols.
-Intuitive operability by full menu and picture guidance. All data can be edited, stored and loaded.
-Color connection picture is on the screen whenever you need.
-The stored data can be transferred to a PC by USB port or SD card, and also can be transfer to wherever you want directly by internet.
V2019 Super dsp3+ obd tool Support MQB platform model Audi/VW/Skoda/SEAT and
Audi/VW/Skoda/SEAT/Bentley/Benz/Land Rover/Jaguar/Volvo/Porsche 2010-2017 model supported by dspiii
V2019 DSP3+ (model supported by DSPIII v2018) fully supports Audi/VW/Skoda/SEAT/Bentley/Benz/Land Rover/Jaguar/Volvo/Porsche 2010-2017 models as follows:
Super dsp3 Customers feedback:
1. Do 2012 Audi A8 odometer correction only 3min
2. The magic about this machine – most tools need to read S-Key and prepare dump using a programmer and then change miles for the Audis 2011+This tool does it all OBD – one of the only few tools that can do the 10/11+ Audis without preparing the dump, all in 30 seconds, Amazing! Very similar to Enigma/DP4.
3.2012 Porsche Cayenne- 2 min
4.2013 Audi A5 – 10min
3.super dsp3 only works from 2010 only by OBD !!! What comes measured that does works well.
AUDI A3 2013 OK
AUDI A1 2011 OK
AUDI A6 2012 OK
GOLF7 2O14 OK
GOLF7 2015 NO
GOLF6 2011 OK
GOLF5 2009 OK
GOLF5 2007 NO
GOLF4 2001 NO
IBZA 2014 OK
IBIZA 2016 OK
POLO 2014 NO
LEON 2014 OK
LEON 2000 NO
W203 2006 NO
W203 2005 OK
W204 2012 OK
W204 2014 (CAN BLOCKER) OK
W205 2013 (CAN BLOCKER) OK
W246 2013 (CAN BLOCKER)OK
W222 2015 (CAN BLOCKER ) NO
VOLVO V40 2013 OK JUMP NO !
Golf 7 2014 —> is good
Audi A6 2012 —> OK —> Audi A6 4G?
Seat Ibiza 2016 —> is good
Seat Leon 2000 —> NO —> Why ??? Is old Car
Volvo V40 2013 —> is good
W222 2015 —> No —> Thats very BAD !!!
jaguar xf work ok
golf 7 nec35xxx 2014 work ok
up 2015 work ok
golf 7 nec35xxx 2015 not work read but can t change it
audi a1 2015 nec35xxx not work read but not change it
-It didn't work on Seat Ibiza 65 Reg
-works perfectly Audi a6 2013
-Works-Audi A6 C7 2011-2014 made.
-Top device works very well I've tried: wv Touaran from 2017, Audi S3 from 2015, Audi a3 from 2011, wv Scharan from 2018, wv t6 from 2011, Mercedes W204 from 2013, Audi SQ5 from 2014, Audi a4 from 2013, all of them
Models makes the device … I am very satisfied for the device
Package List:
1 x Main Unit
1 x OBD2 Adapter
1 x Main Cable
1 x Touch Pen
1 x Plastic Box
www.cnautotool.com