Autel MaxiIM IM608 is the most advanced and the unique all in one key programming and diagnostic tool that combines advanced key programming, all systems diagnostics, and advanced services in one Android based 10.1-inch touchscreen tablet.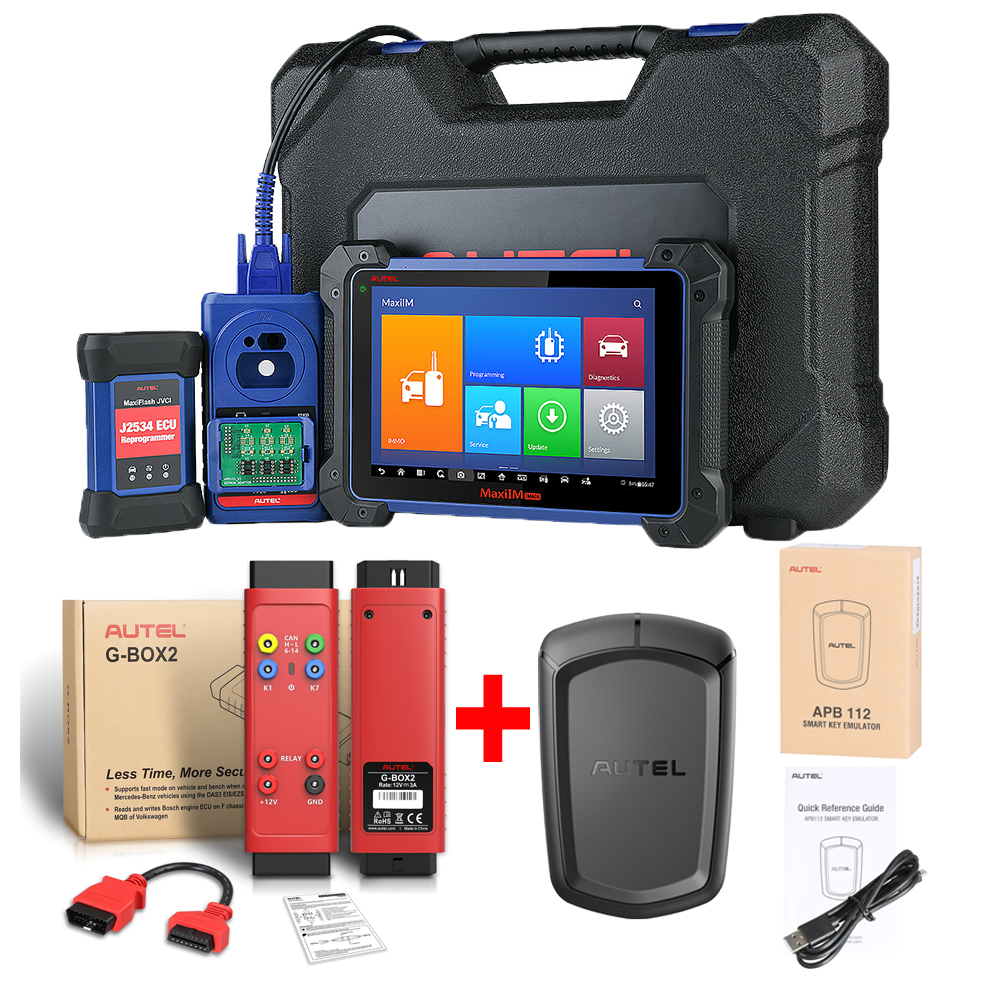 Autel MaxiIM IM608 Main Features :
1.Free Update Online for 1 Year, after one year, it will cost $1100
2.Warranty for 12 Months.
3.ADVANCED IMMO & KEY PROGRAMMING
4.OE-Level Diagnostic and Service Functions as MaxiSYS Pro
5.with XP400 and MaxiFlash JVCI for ECU Programming
6. Language: English, Spanish and French. (We can ship to Spain and France now)
7. Autel have released BMW CAS4/CAS4+ through OBD update!
Kindly Note: Before you make the order , please select which area you will use the tool first , if not select the correct area , the machine will be locked by factory .
( If you use it in USA , please choose Americas Region )
Autel MaxiIM IM608 Functions:
1. Read & Clear Fault Codes | Short description & code provided (can clear faults & warning lights)
2. Service Functions | Oil light / EPB / BMS / SAS / DAF etc
3. Access Live Data | Data from the ECU/Modulesnsors displayed in real-time (Oxygen sensor-rich/lean etc)
4. Actuation/Component Testing | Actuate (switch on/off) to diagnose functionality (relays, fans, locks etc)
5. Coding Functions | Allows you to change vehicle parts that need to be "coded" (Injectors, ABS, starters etc)
6. Flashing/ Reprogramming | Advanced updating/coding of ECU's online through a J2534 pass-through flashing device
7. Advanced Key Programming | IMMO functions, Transponder read/write/identify, MCU/EEPROM chip read/write
Autel MaxiIM IM608 Packling List:
1x Autel MaxiIM IM608 Main Unit
1x APC101 USB Cable
1x APA101 Signal Cable
1x MaxiFlash JVCI
1x APB101+APD101(EEPROM Adaptor+EEPROM Adapter Shell)
1x APA103(EEPROM Clamp)
1x XP400
1x APB102 MB IR Cable
1x APA104 ECU Clamp
1x Main Cable
1x APB104(MCU_FQFP64)
1x APA105(MCU Clamp)
1x USB Cable (2m)
1x APB105 MCU_FQFP80
1x APA106(MC9S12 Clamp)
1x Mini USB Cable
1x APB106(MCU_FQFP144)
1x APA107(Connect Cable)
1x AC/DC 12V Adapter
1x APB107(MCU_FQFP144)
1x Quick Reference Guide
2x Light Fuse 6*30mm
1x APB108(MCU_FQFP176)
1x Packing List
1x Cigarette Lighter
1x APA002(EEPROM Socket)
1x Carrying Case 634*170*404mm
1x AAC001
1x APB112
1x G-box2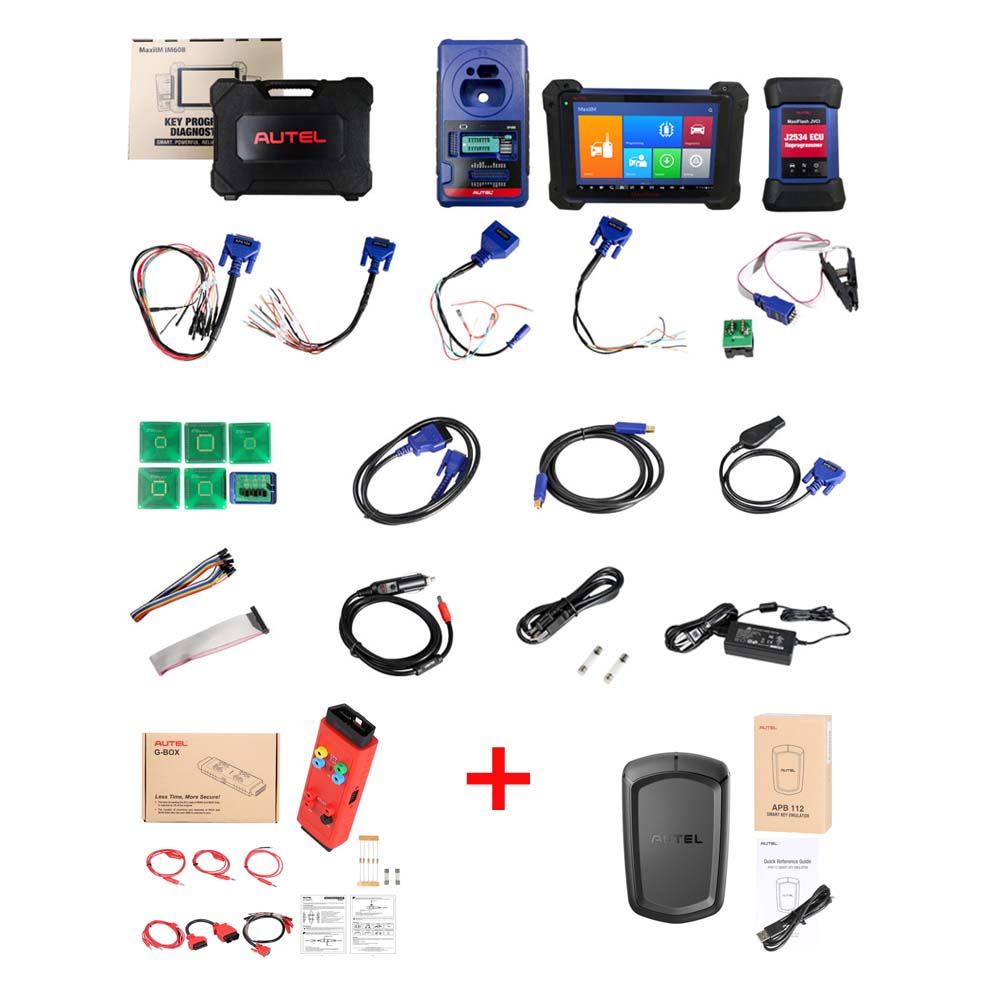 How to Update Autel MaxiIM IM608 Software:
Autel IM608 Update application allows you to download the latest released software.
The updates can improve the MaxiIM applications' capabilities, typically by adding new tests, new models, or enhanced applications to the database. The Display Tablet automatically searches for available updates for all of the MaxiIM software when it is connected to the internet. Any updates that are found can be downloaded and installed on the device. This section describes installing an update to the MaxiIM System. A notification message displays if an update is available when the Notifications Center function is enabled in the Settings application.
1. Make sure the Display Tablet is connected to a power source with stable access to the internet.
2. Tap the Update application button from the MaxiIM Job Menu; or tap the update notification message when received one; or tap the Update icon on Vehicle Menu in Diagnostics application. The Update application screen displays.
3. Check all available updates:
–If you decide to update all the items of IMMO software, select IMMO Tab and then tap the Update All button; if you want to update all items of diagnostic software, select Diagnose Tab and then tap the Update All button.
— If you only want to update one or some of the item(s), tap the Update button on the right column of the specific item(s).
4. Tap the Pause button to suspend the updating process. When you tap Continue to renew the update, the updating process will resume from the break point.
5. When the updating process is completed, the firmware will be installed automatically. The previous version will be replaced.
For more information about Autel Scanner ,please visit our website sale@cnautotool.com