Original Autel IM608, also called Autel MaxiIM IM608, a professional and advanced immobilizer/key programmer, full set with XP400 KEY & CHIP PROGRAMMER and MaxiFlash JVCI, combines the most advanced key programming and immobilizer experience with advanced automotive diagnostics and service functions, ideal immobilizer and key programming tool for Automotive technicians and locksmiths. Free online update for one year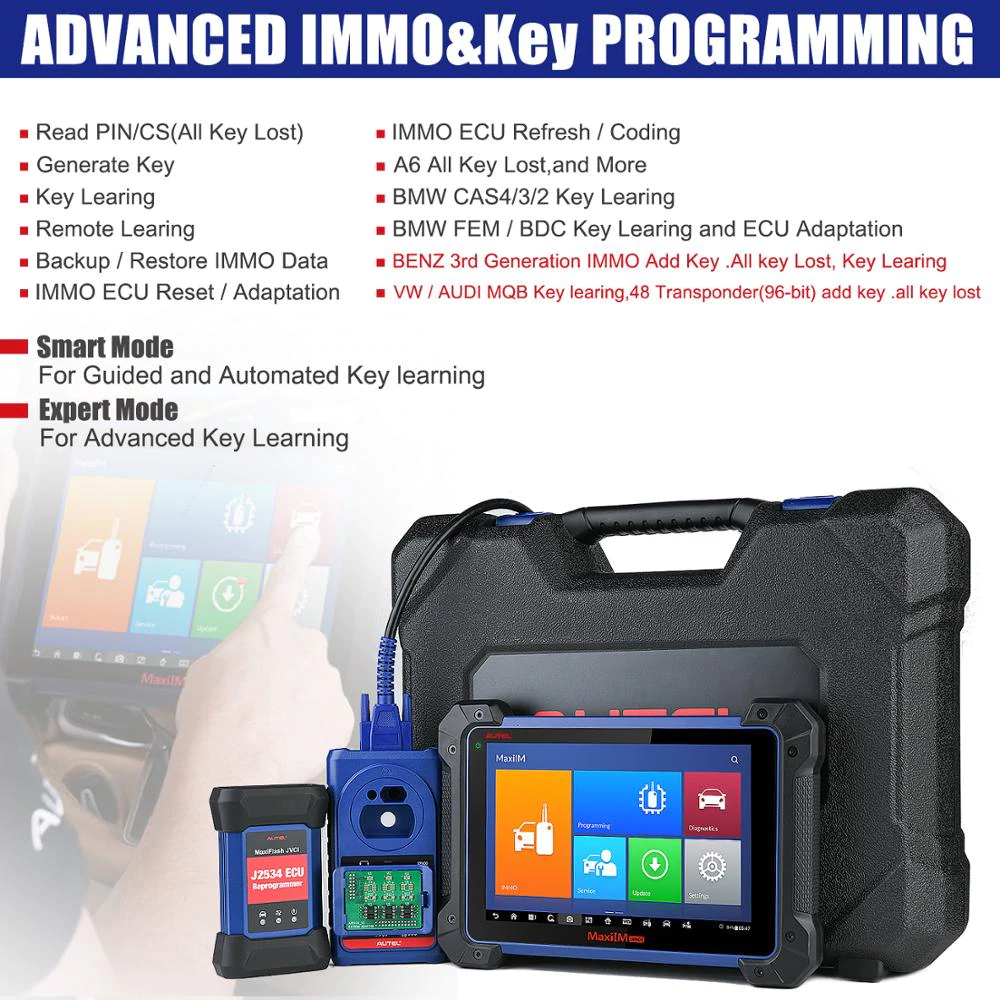 SMART MOD: Explanatory and Router Key Programming
EXPERT MOD: Advanced Key Programming
PIN / CS Reading (Full Lost)
Key Generation
Key Programming
Command Introduction
Backup / Repair IMMO Data
IMMO ECU Brain Reset / Adaptation
IMMO ECU Brain Reset / Coding
BENZ 3rd Generation IMMO Key Splicing, Full Lost, Key Programming
BMW FEM / BDC Key Programming and ECU Adaptation
BMW CAS4 / 3/2 Key Programming
VW / AUDI MQB Key Programming, 48 Transponder (96-bit) Key Splicing, Full Lost, A6 Full Lost and More …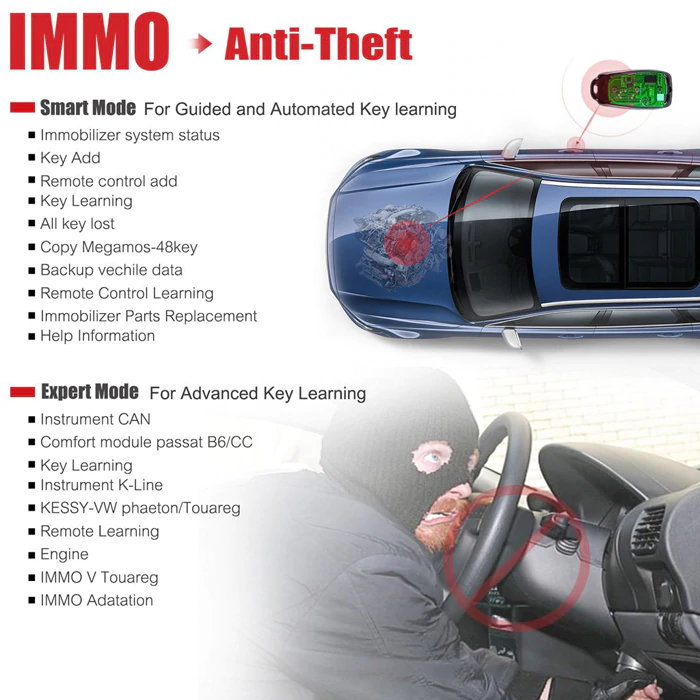 Autel IM608 Powerful Funcitons
1. Read & Clear Fault Codes | Short description & code provided (can clear faults & warning lights)
2. Service Functions | Oil light / EPB / BMS / SAS / DAF etc
3. Access Live Data | Data from the ECU/Modulesnsors displayed in real-time (Oxygen sensor-rich/lean etc)
4. Actuation/Component Testing | Actuate (switch on/off) to diagnose functionality (relays, fans, locks etc)
5. Coding Functions | Allows you to change vehicle parts that need to be "coded" (Injectors, ABS, starters etc)
6. Flashing/ Reprogramming | Advanced updating/coding of ECU's online through a J2534 pass-through flashing device
7. Advanced Key Programming | IMMO functions, Transponder read/write/identify, MCU/EEPROM chip read/write
Autel IM608 Reviews
Autel im608 success:
1.2013 Volvo S60
Add proxy key —done
Remove KVM&CEM—done
Read on Bench—Done
Renew locked used key with Xhorse key tool—done
Add key via obd with bench date—done
45min job start to finsih
"my autel im608 is great! really enjoy the Volkswagen programming functions, and it has some decent scanning ablilities as well. looking forward to whare they go in the future"
"Toyota smart key AKL, 2000 E320 W210, on bench, 13 minuteds, fd's done on bench"
Mercedes EIS Password Calculated successfully by FD
BMW X5 Diesel 2015 BDC Key program, fast, super fast!
Jeep Compass 2018 read pin and programmed proximity key 5 min job—done
Fiat Grande Punto 2006, read pincode, instant pin code calculation—done
Alfa Romeo 147 2007, read pincode after reading eeprom  10 min —done
Skoda Octavia2007, read pin code, read dash eeprom–done
Programming freelader 09 key insert module—done
"Took 5 minutes after spending hour pissing around with JLR dealer kit"
"yes i confirm this also. No problem using a mobile phone to get internet asscess on the im600/im608. Never had a problem with this"
2019 Honda CR-V Proxy—done (add key 2 minutes)
"so far I've been impressed with IM608, like us every tool has on off day, but so far its done all I've thrown at it, to the point will try it on a lot more that i normally use other tools for. i am sure at some point it will fail on something it shouldn't, all do, but so far it's providen to be a worthwhile addition"
"First Merceds with my IM608, 2012 sprinter instant calculation 2 minutes job max"
"Toyota verfire key programmed and Nissan ignition fault identified"
2010 vw golf add key, add OEM remote—done
Autel IM508 do BMW F series keys and mercedes keys with xp400
"2002 C-class W203 spare key. Read password through IR in 2 minutes as experiment went back in through working key in EIS calculated pin in under 5 minutes while in there popped boot to see if function worked through OBD"
Mercedes W209 done on bench  as a test first calcaulated 35 mins 2nd try 10 mins
For AKL MB is better to have G-box
Pulled immo code on 2006 jeeb Cherokee, added key in 2 minutes.
"Autel IM608 is capable of doing CAS4 through OBD if you have agood battery support. and they are closed to release Vauxhall Vivaro 2016> AKL obd. They've done a successful test a few week ago"
Autel IM608 Failed At:
Autel IM608 wouldn't program a Renault master 2015 wouldn't read pin, Lonsdor K518S snd RET programmed ok.
Bench mode reading the ISN of MSD gives sercurity error now (Yanhua mini acdp+ module3+ bench interface works)
Volvo XC60 —failed . once found file it read… says module can't be deciphered
"I have maxisys elite, when doing newer cars, it doesn't have parameter reset even with IM608"
Skoda Superb 2011—IM608 kept saying failed then reported no internet. Went into advanced option and same Smartpro-crashed so gave up. Coded remote as always on VAG. Ended up cloning using VVDI2 had tool–funny internet access succeeded where IM608 didn't.
Done a few Mercs now very impressed. Yes its good for add key but if calculation is longer than 20 minutes don't waste your time-do it on bench or use other tool. totally agree use IM608 for spare keys AKL on bench with VVDI PROG &VVDI MB