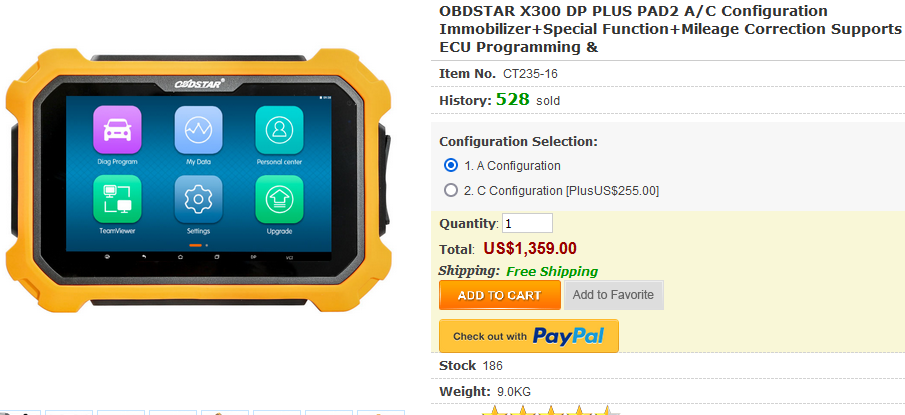 OBDSTAR X300 DP PLUS is a new Android-based vehicle key programmer developed for internet applications. This article includes the reviews, FAQs and registration about this device.
Part 1: Reviews about Obdstar x300 dp plus
From rapidlocks:
I bought one mainly for Honda , and it works great on Honda and not just for keys. I get a lot of calls for civics that have had flat batteries and been jump started which causes the immo and ecu to miss match, it's great on fixing these too, so this was the main reason I bought it. It has some issues as do most cheaper machines, but has also had its uses too. It is good on later Fords after 2012, when other kits have failed this has saved the day.
It's excellent on Asian models as you would expect, honda, suzuki, toyota, etc, vag has improved alot and with the rfid ariel can do precoded cs after 2008 models. The android tablet is good quality and very simple to update. It is a good machine for its money especially if used on its strengths.
From Gbi24:
About Obdstar x300 dp, it is very suitable for Peugeot, Citroen and Renault cars. Works well on Ford. n the other hand, it is not ready for Opel yet. I did not try other brands.
I know how to recover all PIN codes. 206 and 207 after 2001 are ok, Partner, Jumpy, Berlingo C3, C4, berlingo, etc…clio 2, clio 3 and clio 4, Twingo, scenery 2 Scenic 3, megane 2 and megane 3, Espace 4.
Hassle-free recovery of password and key programming.
The only major drawback is that it is in English and cannot be written in French.
From Mourad1411:
Very good tool, I have used it for nearly 7 months. I tested it on psa without problem, Renault and other models.
From susie:
The following 3 adapters are integrated into the X300 dp plus: EEPROM /PIC 2-in-1 adapter, RFID adapter and Key Renew 3 in 1 adapter, which makes it a bit expensive.
From Scott:
I already own x300dp and TBH it's better than I expected. Most of my subs cost that PA for the other tools 2424. I think it's great value for money.
From Steveon R.:
It matches description, and works and performs very well, a powerful tool.
Part 2: How to register x300dp?
Step 1:
Turn on X300DP Plus.
Step 2:
Open DP, and select Setting option.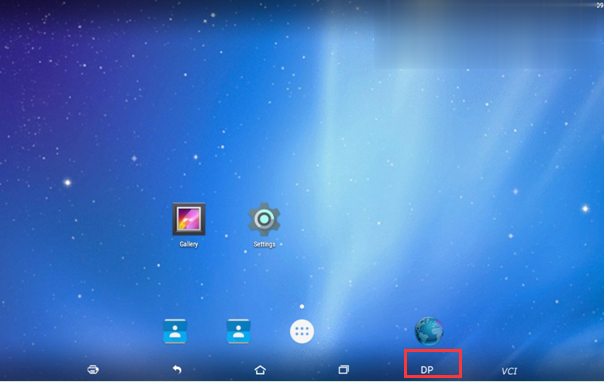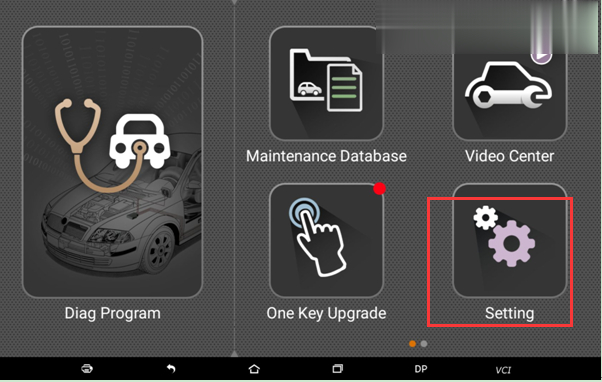 Step 3:
Choose User Information.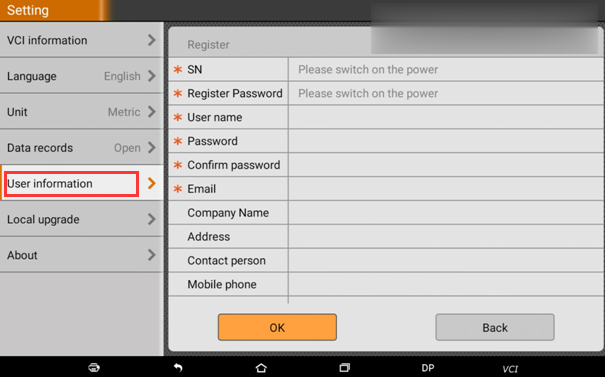 Step 4:
Connect the device to the power and charge it (register password will show automatically).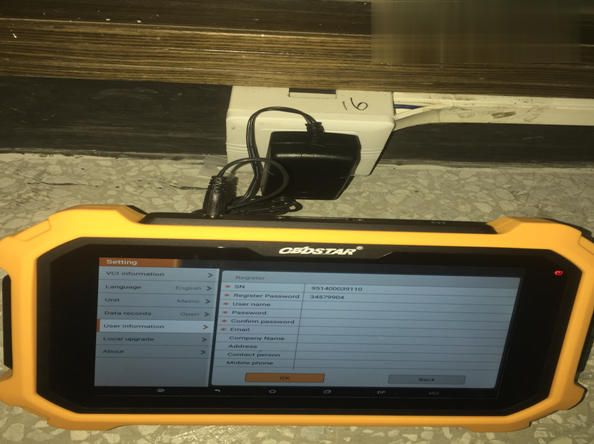 Step 5:
Input your user information and the registration is done.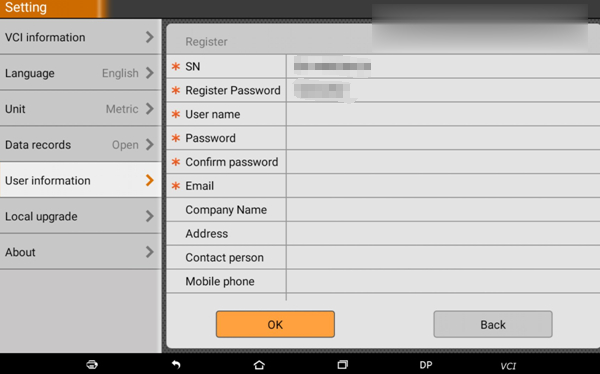 Part 3:  obdstar x300 dp plus auto key programmer FAQ
Q: Can we use the X300 DP plus with noname transponder and would you have a tutorial to unlock an ID48 SEAT Leon?
A: Sorry, it doesn't support this function.
Q: Does OBDSTAR X300 DP Plus support Key Programming for 2015 Dodge Ram 2500 (USA)?
A: If smart keys, yes.
Q: Does it work on the following models for ECU Programming and ECU Clone respectively?
ECU Clone: Volvo, PSA, GM, Bosch
ECU Programming: BMW, GM
A: Yes, it does.
Q: Can X300 DP Plus change the setting and language of the car's radio (Model: Toyota wish 2010)?
A: No, it can't.
Q: Will x300 dp plus work a 2010 Honda accord key programming?
A: It depends on where you live. Its immobiliser function only support USA Accord 2008-2012, 2013; Asian Accord 2008-; European Accord 2009-
Q: Will its key programming work for 2016-2018 Dodge vehicles?
A: Yes, it will.
Q: Does this have immobilizer programming and mileage adjustment for 07 Nissan Maxima?
A: For Nissan mileage adjustment, it only work on Altima, Pathfinder and Teana 2013 currently.
Q: Will it do afit injector test (Cadillac ats 2013)?
A: No, it can't support this yet.
Q: Does this device have odometer correction?
A: Yes.
Q: Can X300DP full configuration reset SRS, change mileage to Honda, Hummer and BMW?
A: Obdstar X300 DP only support Honda two models to reset SRS; and Hummer H2 2003-, H3 2005 to change mileage. For BMW, there is no solution with this tool.
Q: Can X300 DP program a new key to Hiace when all keys are lost? Support G and H chip?
A: It supports immobilizer Hiace after 2006 year, and the G chip is supported but the H not.
Q: Can it read PIN code for Hyundai by OBD2?
A: Sorry, it can't.
Q: Can it do reset IMMO for Toyota H key?
A: Yes, it supports this function.
Q: How to change X300DP language?
A: Go to Settings, Language, then Input. You have three optional languages to choose: English, simplified Chinese and traditional Chinese.
Q: Can it work on Brilliance V5 2013 for PIN code reading and key programming?
A: Yes, it can read Pin code and program keys without password needed.