Launch X431 PAD V is Launch's latest top-end car comprehensive diagnostic scan tool based on the Android 7.1 system. It inherits Launch's many advantages in car fault diagnostic technologies, including large car model coverage, powerful functions, a large number of special functions and accurate test data.
Here let's check the key features of new launch X431 PAD 5.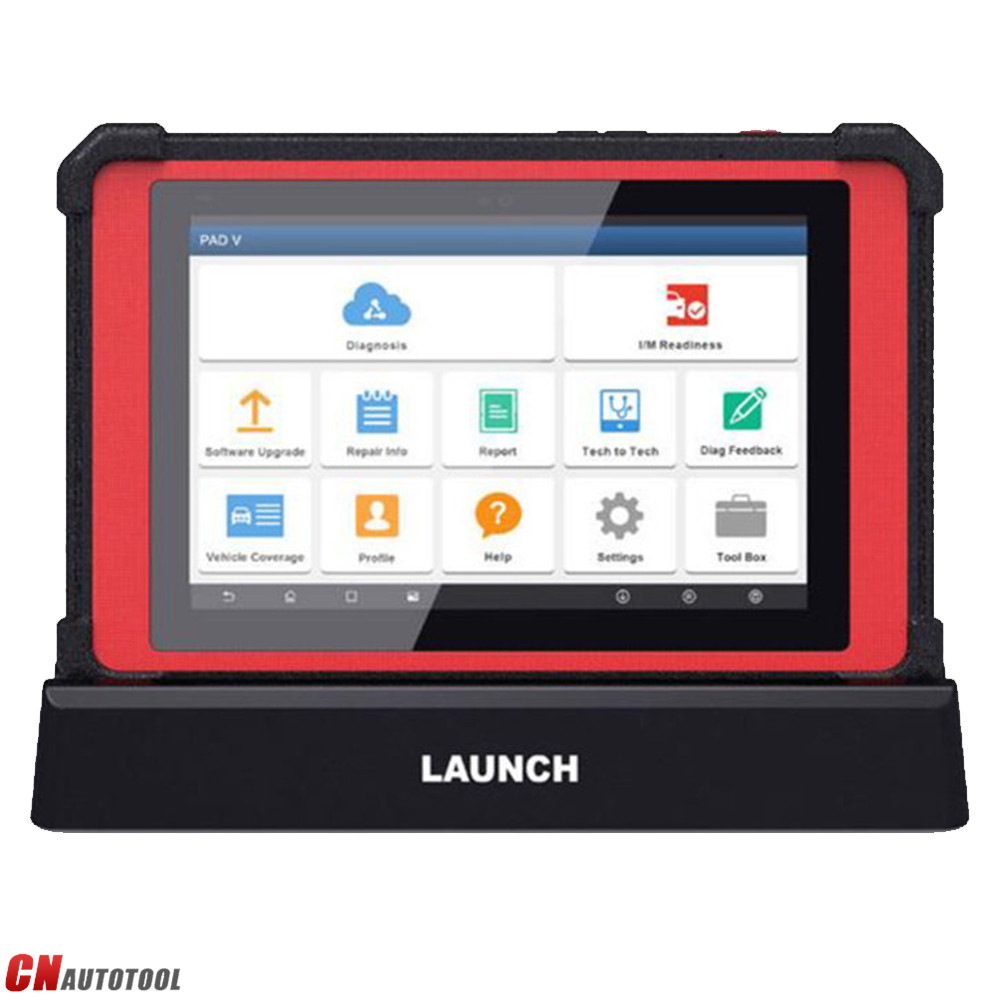 Launch X431 PAD V Features:
1. Full vehicle system coverage for over 110 brands in the world, which is continually updated
2. Full-function scan tool for both cars and trucks
3. Support J2534, DolP, CAN FD and other protocols with SmartBox 3.0 connector
4. Automatically identify VIN upon connection to the vehicle for intelligent diagnosis
5. Remote diagnosis allowing you to work on a vehicle from your tool without being on-site
6. Read all OTC types for full system, view, graph and record data PIDs, support bi-directional controls, actuation test and all other diagnostic functions
7. Guided function for Volkswagen and Audi
8. Advanced coding and programming function
9. 16 special functions available
10. ADAS calibration function is optional
11. Compatible with 5 extended module: Oscilloscope, sensor, battery test, endoscope, WiFi printer
12. One-Click Upgrade and silent install for software
13. Diagnostic records and reports can be stored in the cloud without any concern of data missing
14. Integrated database with comprehensive vehicle service and repair information
15. The latest 2.4 & 5GHz Dual Wi-Fi with high transfer speed, strong anti-interference and long-distant diagnosis ability
16. IP65 case with exceptional damage resistance to the water and dust for workshop use
17. Docking & charging station included with QC3.0 Quick Charge technology
18. Support USB Type C & Type A
Supported Language:
English, Chinese and other languages depending on the car makes. Fees apply for other languages other than English or Chinese.
X-431 PAD V Functions:
Comprehensive diagnosis: Support full-make, full-system, full-function rapid diagnosis, read DTC, clear DTC, read data stream, actuation test, etc.
2. Intelligent diagnose: Support intelligent VIN identification and cloud-based diagnostic record query, making the diagnostics more intelligent and efficient.
Local diagnose: When the intelligent diagnosis is not available in an environment without network, choose traditional diagnosis. Select the vehicle make and model manually to perform the vehicle detection.
Remote diagnose: Support online real-time communication and remote diagnostic service through text, picture, and file between device and device, and between device and remote desktop, with low network bandwidth and system resources occupancy.
Special function: Support total 16 special functions, including service lamp, reset, throttle adaptation, steering angle reset, brake pad reset, tire pressure reset, anti-theft matching, ABS bleeding, battery matching, gear learning, injector coding, DPF regeneration, sunroof initialization, headlamp matching, suspension matching and AT matching, EGR Adaption.
Software upgrade: Support one-click upgrade of operation system, client side, car model software and firmware.
Extended module: Support oscillograph, sensor, battery test, endoscope, Wi-Fi printer, etc.
Extension optional modules:
. Endoscope
. Sensor box
. Multimeter
. Battery tester
. Scope box
Passenger vehicles:
Australian: AUST Holden, AUST Ford
Asian: Toyota/Lexus, Honda/Acura, Mazda, Subaru, Nissan/Infiniti, Mitsubishi, Hyundai, Isuzu, Daihatsu, KIA, Daewoo, Suzuki, Proton, Tata, Mahindra, Ssangyong, Perodua, Maruti
European: Audi, Mercedes/Maybach, BMW/MINI/Rolls Royce, VW/Bentley/Bugatti, Opel/Vauxhall, Peugeot, Citroen, Volvo, Sprinter, Renault/Dacia, Fiat/Romeo/Abarth/Lancia, Rover, Landrover, Saab, Seat, Skoda, Smart, Maserati, Ferrari, Arston Martin, Porsche, Jaguar
USA: USA Ford/Lincoln, GM/Buick/Cadillac/Chevrolet, Chrysler/Dodge/Jeep
Chinese: Changcheng(Great Wall), Geely, Qirui_TY(Cherry), Futian, Changan, Changhe, Haifei ….etc.
Special: Immobilizer/Key, Injector, Reset Brake Bleed, Reset TPMS, Electronic Throttle Relearn, Reset DPF, Reset SAS, Reset Oil, Reset Brake, Reset BMS
Others: EOBD, Demo
Heavy Duty Vehicles:
Software Coverage:
Nissan (Diesel)
Mitsubishi (Diesel)
USA Ford Diesel, Kenworth
Astra, Benz Heavy Duty,  Bosch Diesel, China Heavy Duty, Cummins Heavy Duty, DAF, Delphi Diesel
Denso Diesel, FAW Liberation, Foton Auman, FUSO, Hino, Hyundai Heavy Duty, Isuzu Heavy Duty
Iveco Heavy Duty, JAC Heavy Duty, Mack, MAN, OBD Heavy Duty, Scania, Shangchai Diesel, Volvo Heavy Duty
WP Diesel, Airbus, Allison Transmission Box, Ashok Rejlander, Bendix ABS, Caterpillar Heavy Duty
Chai Heavy Vehicle, Chaoyang Diesel, Construction Machinery, CREDO Heavy Vehicle, Detroit Engine
Dongfeng Commercial Vehicle, Dongfeng Yufeng, Doosan Engine, Freightliner Heavy Duty Truck
Full Diesel Diagnosis Software, Haldex ABS Heavy Duty, HD_ABS System, HD_GoldenDragon, HD_International
HD_Kinglong, HD_Maxxforce, HD_Tata, HD_Western_Star, Heavy Truck Presentation Software
IRISBUS HD, IRIZAR HD, NEOPLAN HD, Peter HD, Renault HD, SETRA HD, Stannic Bavin, Sterling HD
Sunlong Bus, Sunwin Bus, UD Trucks 2F Nissan Diesel, WABCO ABS, Yang Chai Engine
More detail information please check on:www.cnautotool.com