The Cummins Inline 7 datalink adapter is a reliable adapter that can be used with many applications to communicate with various vehicle systems.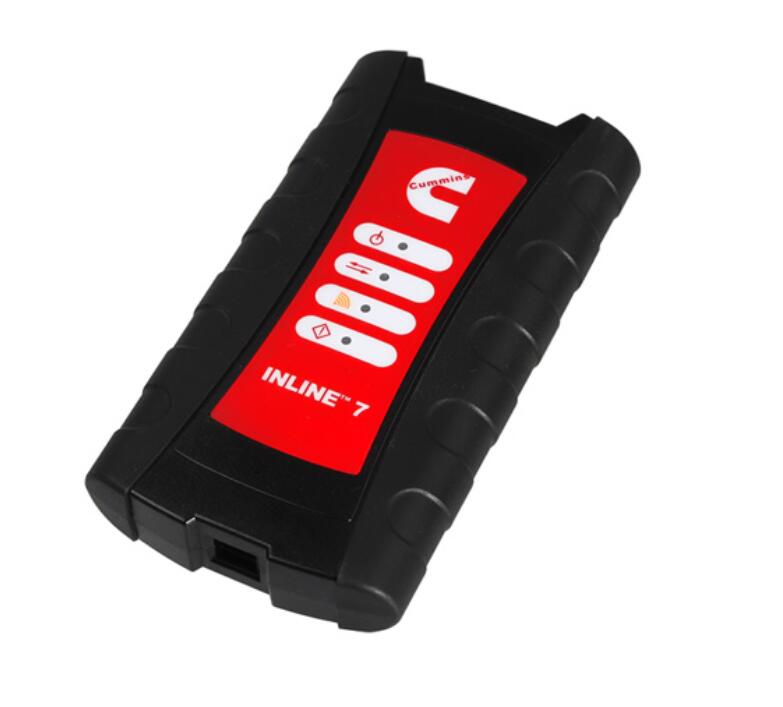 Supports all Cummins electronic engines.  Can also be used with all other RP1210 software such as:
Caterpillar (on-road)
Detroit
Allison
Navistar
WABCO
Bendix
Eaton
Freightliner
etc.
The INLINE 7 datalink adapter communicates with your PC using a:
USB cable through a standard USB connector
WiFi
Bluetooth
Cummins was among the first to release an adapter with all three connection options. INLINE 7 is fully compliant with the TMC RP1210 standard, and also offers 250 and 500 K baud support, including up to 1 megabaud support.
Functions with a wide array of Cummins, OEM and third-party service and information tools
Fully compliant with the Technology and Maintenance Council's RP1210 standard
Protocols supported:
J1708/J1587
J1939 (250K, 500K, or 1 MB)
CAN (125K, 250K, 500K, 1 MB)
(3 CAN channels with Auto Baud)
ISO 9141
ISO 14230 (KWP2000)
ISO 15765
The Cummins INLINE 7 DataLink Adapter is designed to function with a wide array of Cummins, OEM and third-party service and information tools, including the following:
Cummins INSITE
Cummins PowerSpec
Detroit Diesel Diagnostic Link
CAT Electronic Technician (On-Highway only)
Navistar® -ServiceMaxx Fleet Pro
Volvo PTT
VCAD Elite Mack/Volvo
V-Mac Service Tools
Allison DOC® For PC Service Tool
Allison DOC® for Fleets (1000/2000/3000/4000)
Eaton ServiceRanger
Bendix ACom
WABCO Toolbox
Freightliner ServiceLink
International DLB, Intune, and IPC v2.02
International ServiceMaxx
PF-Diagnosis
and many more!
Cummins INLINE 7 Package List:
1pc x Cummins INLINE 7 Data Link Adapter
1pc x DB26Pln-OBDll Cable
1pc x USB Cable
1pc x DB26/2Pin/3Pin Cable
1pc x DB26/9Pin Data Link Cable
1pc x 3Pin Connector
1pc x 3Pin Connector
1pc x Software