Product Details :
Region:   All regions
Languages:   English, Spanish, Italian, Mexican, German, Norwegian, Russian, French
OS:   VISTA,Win 8 x32 x 64, Win7 x32 x64,Windows 10
Quantity of CD:   2 DVD DL
CNH's Electronic Service Tool (EST) software version 9.5 was released in 2022.  Licensed service computers using previous versions of EST can be scheduled for an upgrade to version 9.5.
Electronic Service Tool 9.2 (EST) Engineering Level* (software only) – used by New Holland dealer technicians to connect with vehicles that have a Controller Area Network (CAN) BUS. for advanced dataset registration and a lot of hidden options programming for vehicles, raw message simulations.
IMPORTANT NOTICE. Service Manuals, Schemes available only online.
The following brands of the CNH group are covered:
New Holland (Agriculture and Construction)
New Holland FK (Fiat-Kobelco)
New Holland O&K (Orenstein & Koppel)
CASE (Agriculture and Construction)
STEYR
KOBELCO
Iveco (Astra) (articulated dump trucks only)
Flexi-Coil
Sumitomo (S.H.I.)
Link-Belt
New Holland Electronic Service Tool allows you to:
• Check the status of parameters;
• Retrieve faults;
• Run diagnostic tests;
• Make ECU and parameter programming;
• Monitor active and logged diagnostics;
• View and change ECU configuration;
• View diagnostic procedures and schematics.
• Troubleshoot problems;
• Run scope diagnostics;
Minimum Specifications:
Processor: Intel Core i5 Processor or higher
RAM Memory: 8 GB or greater
Operating System: Windows OS: 64-bit (Mandatory)
Windows 7
Windows 8.x
Windows 10 (Recommended)
Hard Drive: 250 GB or greater;
Ports: One 9 pin Serial port (preferred) OR USB to RS-232
Converter – FTDI Chipset)
Two USB ports
10/100 Ethernet
WiFi 802.11b / g
Bluetooth
Mobile Wireless (recommended)
NOTE: 
This DPA5 can  perform diagnostic, programming and ECU reload by K-Line protocol with E.A.S.y software for Iveco engines.
CNH DPA5 Interfaces OEM 380002884. This interface is  Working 2 CAN and K line ( for diagnostic CASE and New Holland with IVECO Engine with EASY under EST
Second Hand Laptop Lenovo T420 Laptop Specification :
Brand: Lenovo
Condition: Used
Type:  Laptop/Notebook
Screen Size:  14.0
Processor Type:  Intel (R) Core(TM) I5-2520M CPU
Processor Speed:  2.50 GHz
Processor Configuration:  Dual Core
Memory: 4GB
Compared with other laptop, this one is better quality and run faster.
Package : 
1.cnh est DVD for 1 PC activation (we will remote help you installation by team viewer )
2 .Dearborn Protocol Adapter 5 (DAP5 white interface) full New interface for New holland and Case
3.Usb cable
4.New 9-pin Deutsch CNH cable
5.ToolBox
One Year Warranty
Software display: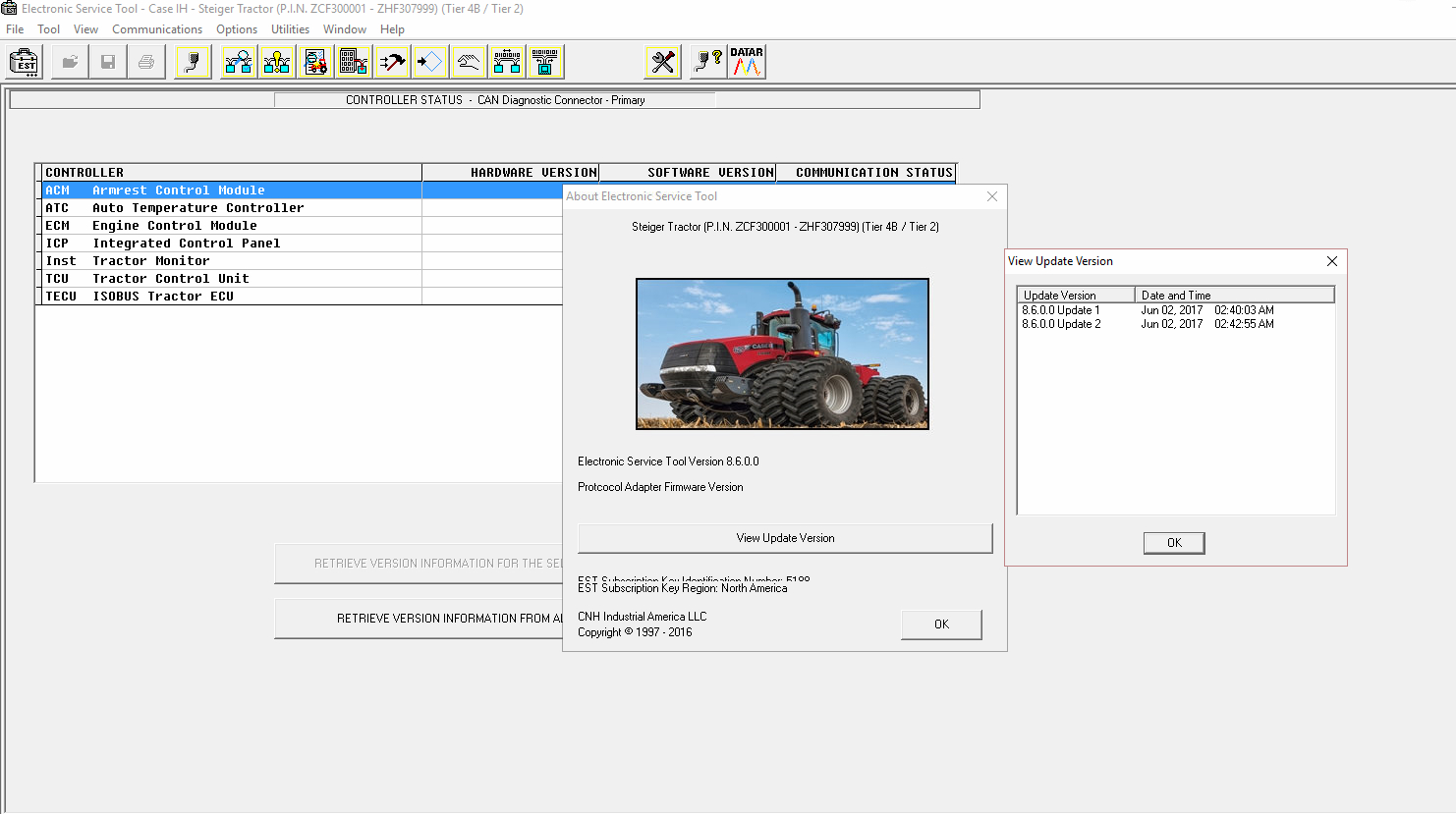 New Holland Electronic Service Tools (CNH EST 9.5 9.4 9.2 8.6 engineering Level) CNH DPA5 kit diagnostic tool Plus Lenovo T420 laptop details at https://www.cnautotool.com/goods-6858-New-Holland-Electronic-Service-Tool-Plus-Lenovo-T410.html
CnAutotool.com – Professional Auto Diagnostic Tools Supplier.If you have any problems, don't hesitate to contact us, send email to sale@cnautotool.com. FREE, Professional & Unlimited Technical Support, Factory Price!