Product Description
OBDSTAR X300 DP Plus X300 PAD2 a new Android-based vehicle trouble diagnostic device developed for internet applications. It inherits from OBDSTAR advanced diagnosing technology and it is characterized by covering wide range of vehicles, featuring powerful function, and providing precise result. Through vehicle diagnostic OBD connector and variant mobile intelligent terminals, it achieves vehicle trouble diagnosis for full car model and full system vehicle.
Dealer Code: 860755B1/0086A002
Orange version only, supports English only
Ship from UK/UK, Fast Delivery, No Tax !
Update: One year free update online, the update cost is 285USD/year, after first year
Support car list : Please check with the supported car list for specific car models on http://en.obdstar.com/
Promotion: Buy OBDSTAR X300 DP Plus Get Free gift include OBDSTAR Renult Convertor + FCA 12+8 Adapter
Note:
Please register first after receiving the product.
It doesn't support the following car models: DAIHATSU、PROTON、MAHINDRA、MARUTI、TATA、HOLDEN、LADA、PERODUA、IRAN (Please contact local dealers from your area to get authorization)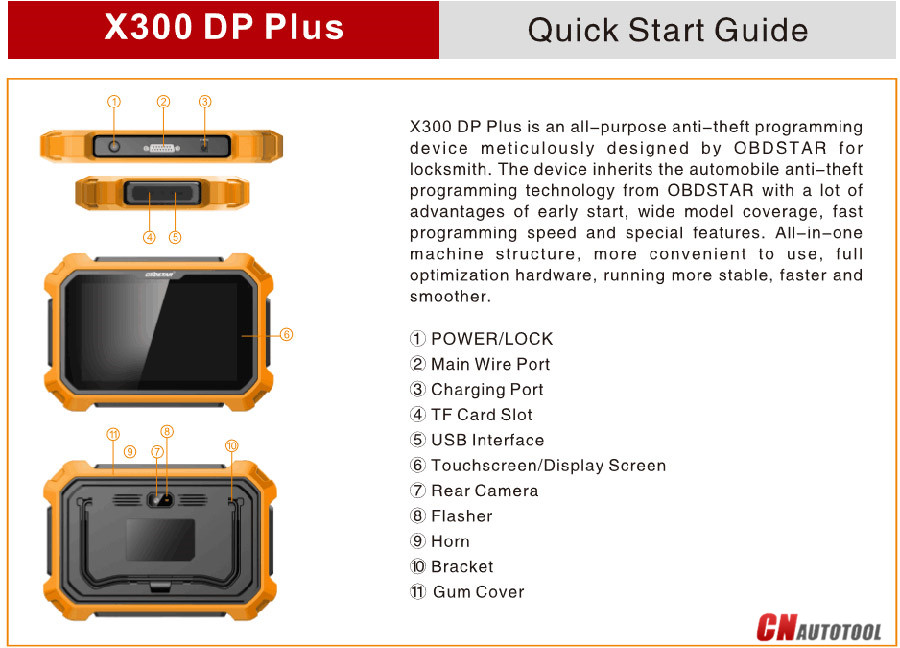 X300 DP Plus C Package:
Immobilizer+Mileage correction+Diagnosis+Special function (Oil rest +ABS+Battery matching+ECU programming+EPB+Throttle programming+Airbag reset+TPMS+Steering angle reset
+OBDII+DPF+Injector code+Suspension matching+Gear learning+CVT learning+EEPROM+Key renewing+ECU cloning)Adapter(P001 programmer+C001 circuit board+C002 circuit board
+W001 data cable+W002 data cable+W003 data cable+Toyota smart key Emulator)+others(Ignition coil+Remote tester.
OTHER CONFIGURATIONS:
A Package:
Immobilizer+Special function(EEPROM+Key Renewing)Adapter(P001 programmer+C001circuit board+C002 circuit board+W001 cable+W002 data cable+W003 data cable+Toyota smart key Emulator)+others(Ignition coil+Remote tester)
B Package: Immobilizer+Special function(EEPROM+Key Renewing)+Mileage correction+Adapter(P001 programmer+C001 circuit board+C002  circuit board+W001 data cable+W002 data cable+W003 data cable+Toyota smart key Emulator)+others(Ignition coil+Remote tester)
OBDSTAR X300 DP Plus A Package, B Package and C package comparison: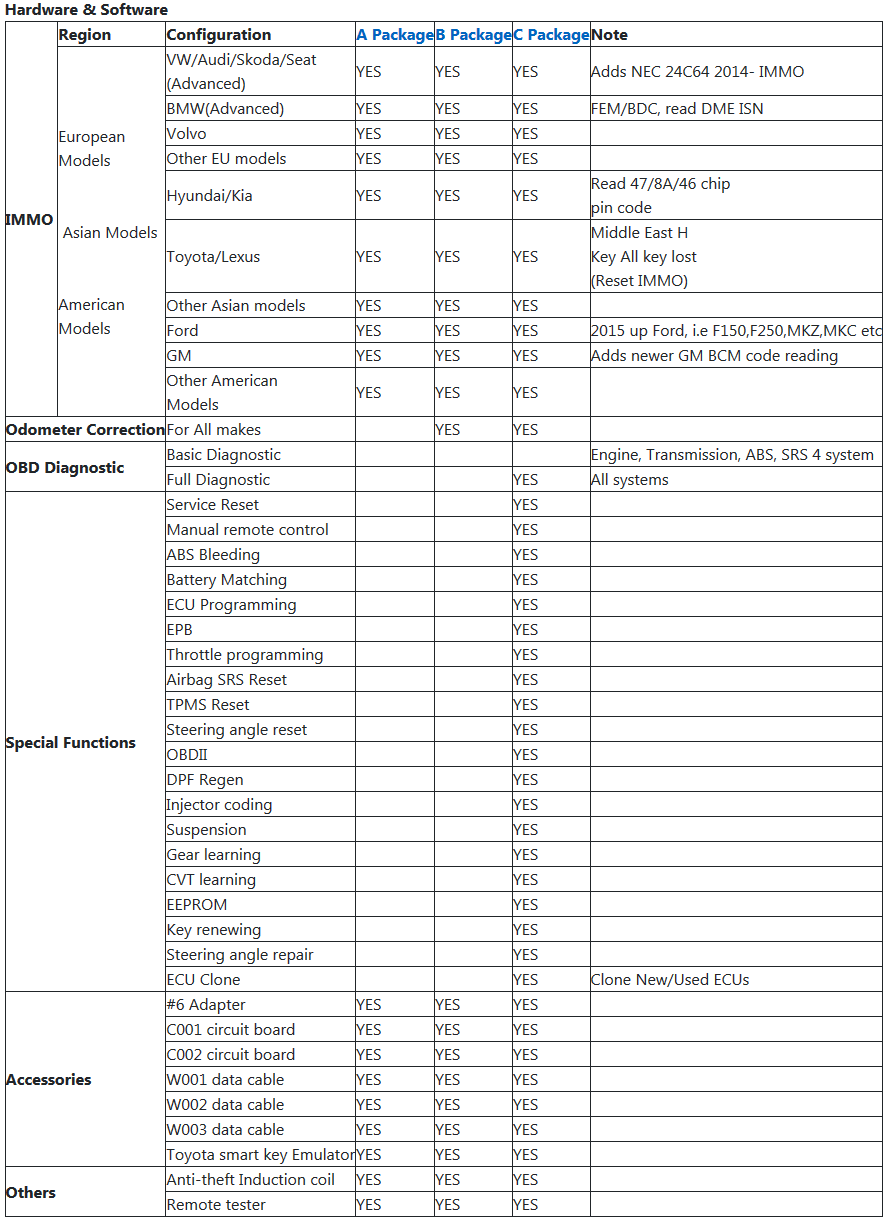 Top 10 Reasons To Get OBDSTAR X300 DP Plus :
1. The built-in VCI box offers more stable communication.
2. The 8″ touch screen offers better vision experience.
3. Allow the user to charge by the OBD port of car. Not like the X300 DP 7″ Pad, which need to be 100% charged before use.
4. With specialized toolkit, high grade and practical.
5. Industrial -grade design, comes with the silicone sleeve.
6. The back bracket allows the user to hang it on the steering wheel or stand on the table, which brings great convenience to the operator.
7. Comes with Toyota Lexus Emulators (The first 4 pieces are already released, and the 5th one is under development)
8. The following 3 adapters are integrated into the X300 PAD plus: EEPROM /PIC 2-in-1 adapter, RFID adapter (VW Audi 4th / 5th IMMO programming and other cars e.g Porsche, BMW, Fiat etc.) and Renew Key PCF79XX adapter.
9. Adds the clip for reading SOP 8PIN EEPROM.
10. Adds the cables for reading ECU via OBD (Used to clone ECU and active the switch).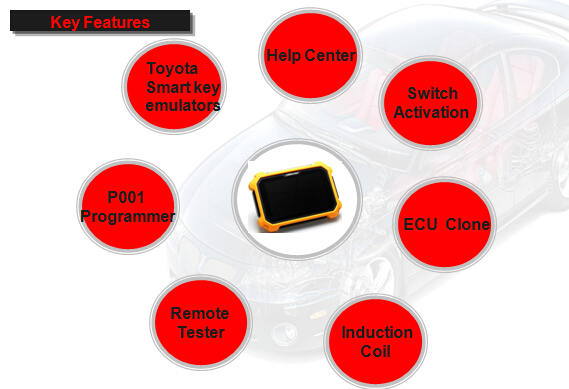 GM/BMW ECU Programming
GM/Peugeot/Volvo ECU Clone
Toyota G&H chip/smart key all keys lost via OBDII
BMW FEM/BDC key programming (CAS coming soon)
Benz S series cluster calibration (W221/W222/C216)
Jeep Cherokee pin code reading & add key (2010-2016)
GM/Opel pin code reading via OBDII (most vehicles in 13-17)
Renault Dokker/Lodgy/Logan 2013-/Sandero 2013-/Koleos 11-16/Symbol 2013-2018 key programming
Hyundai/KIA new pin code reading (46/47/8A chip smart key)
Volvo pin code free & all keys lost via OBDII (non-proximity system)
Jeep challenger pin code reading & add key (smart key system 2014-)
Ford key programming for F150/Mondeo/Mustang/Explorer 2015- (within 2mins)
VW/Audi/Skoda/Seat MQB cluster calibration & NEC 24C64 2014- key programming
Peugeot/Citroen BSI & dashboard cluster calibration ( CONTINENTAL BSI-Q0X/ JC BSI04EV-K0X)
OBDSTAR X300 DP Plus Software Features:
1. Clone ECU
Clone ECU means copy ECU, that is the
OBDSTAR X300 DP Plus
copies the data from the original car ECU, then write it into another same ECU hardware, so that it can achieve the same function as the original ECU.
When you want to change the new ECU or the second ECU, if you use X300 DP Plus to clone via OBD, you won't need to go to the 4s store to do the online programming or dismantle ECU to weld, read & write.
ECU clone Pros :
No need to go to 4S shop, convenient, fast and save money.
Simplify the operating steps, even the amateur can also operate.
No need to dismantle and weld the ECU to read & write, it is zero risk to clone ECU via OBD with the X300 DP Plus.
2. Switch activation function
Nowadays, many car models' secondary power supply of the dashboard or audio equipment needs to be activated to enter the boot status through the related module CAN.
However, when the car technician maintains the dashboard / audio equipment, the main unit is out of the CANBUS network so it maybe won't boot. X300 DP plus " switch activation function" can emulate the CANBUS communication to active the power supply of dashboard / Audio so that it can enter the boot status, then it will test and verify the dashboard and the Audio, also the technician can save money avoiding to purchase many the boot platform and cables of kinds of car models.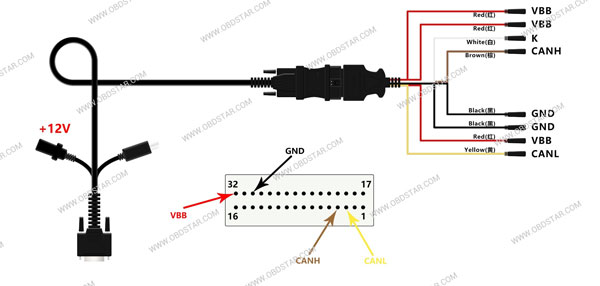 3. Adds the "Help" function including the testable car models, update notice, special features, help instruction, wiring diagram etc.
Testable car models: The user can read the testable car models and year.
Update notice: The user can read all of the update content.
Features: The user can read all of the special features and the functions that only X300 DP Plus supports.
Help instruction: Built-in the guide and instruction for each car model or function.
Wiring diagram: Built-in ECU wiring diagram, more intuitive and convenient.4. Maintenance database: equipped with powerful database.
5. Video center: large amount of videos help users to operate device easily.
6. One Key Upgrade: built-in WIFI mode can realize application downloading and diagnostic function by one key upgrade.
7. System setting: set VCI formation, language, unit, data logging, user information etc.
8. Remote assistance: achieve remote assistance by this function.
9. Report center: record maintenance data logging and create reports during operation.
10. USB Inspection Camera (optional): Flexible and long pipe with HD camera, it can reach car interior pipeline or narrow space to have an overall inspection
Diagnostic Function:
1. Diagnose the electronic control system of prevailing vehicle models covering Asian, European, American and Chinese. Diagnosis functions include: Read DTCS, Clear DTCS, Read data stream, Special functions etc.
2. Classify special function: ABS, EEPROM Adapter, Battery match, CVT learning, EPB, Gear learning, Immobilizer, TPMS (low tire) reset, Cluster calibrate, ECU programming, steering angle reset.
3. Specially designed for Android platform with clear and user-friendly interface;
Hardware Advantages:
1. Built-in VCI box, communication more stable
2. 8-inch touchscreen, more intuitionistic
3. Can be charged directly via OBD interface
4. Practical and high-end gift box
5. Industrial design with silicone case
6. Back bracket design:Can prop on the steering wheel or stand on the table, easier to operate
7. With 4 Toyota simulation keys (the fifth is coming soon)
8. 3 in 1, P001 programmer: combined with EEPROM adapter + RFID adapter+ Key Renew adapter
9. Add the clip of reading SOP 8PIN EEPROM10. Add wiring harness of ECU reading by OBD (for ECU cloning and switch activation)
Packing List
1*Key Master DP Plus Unit
1* Main Wire
1* 12V2A DC Charger
1*KIA-20
1* OBD II-16 Connector
1* HONDA-3
1* HYUNDAI/KIA-10
1* IMMO Induction Coil
1* Muti-functional Jumper
1* P001 Programmer Unit
1* C001/C002 Circuit Board
1* W001
1* W002
1* W003
1*RT100
1* TOYOTA Simulation Smart Keys
1*Configuration List/Certificate/Quick Start Guide Fold