Autel MaxiIM IM608 Description:
Autel MaxiIM IM608 is the most advanced and the unique all in one key programming and diagnostic tool that combines advanced key programming, all systems diagnostics, and advanced services in one Android based 10.1-inch touchscreen tablet. It is equipped with XP400 key programmer and MaxiFlash ECU programmer to provide complete coverage of IMMO and programming functions. Together with the ability to quickly diagnose all modules of the majority of the makes and models on the market, IM608 provides you with all special functions. It is the unprecedented key programming and diagnostic tool that you ever wanted
Autel Scanner IM608 is a state of the art 10-inch Android-based touchscreen tablet combining the most advanced key programming and immobilizer capabilities with OE-level diagnostics and service functions. Equipped with XP400 key programmer and MaxiFlash JVCI ECU programmer, IM608 is a comprehensive immobilizer and key programming tool and ideal for auto technicians and locksmiths.?It combines the most advanced key programming and immobilizer experience with advanced automotive diagnostics and service functions, a 10-inch Android-based, touch-screen tablet with the latest in art. Autel MaxiIM IM608, a comprehensive, ideal immobilizer and key programming tool for automobile technicians and locksmiths.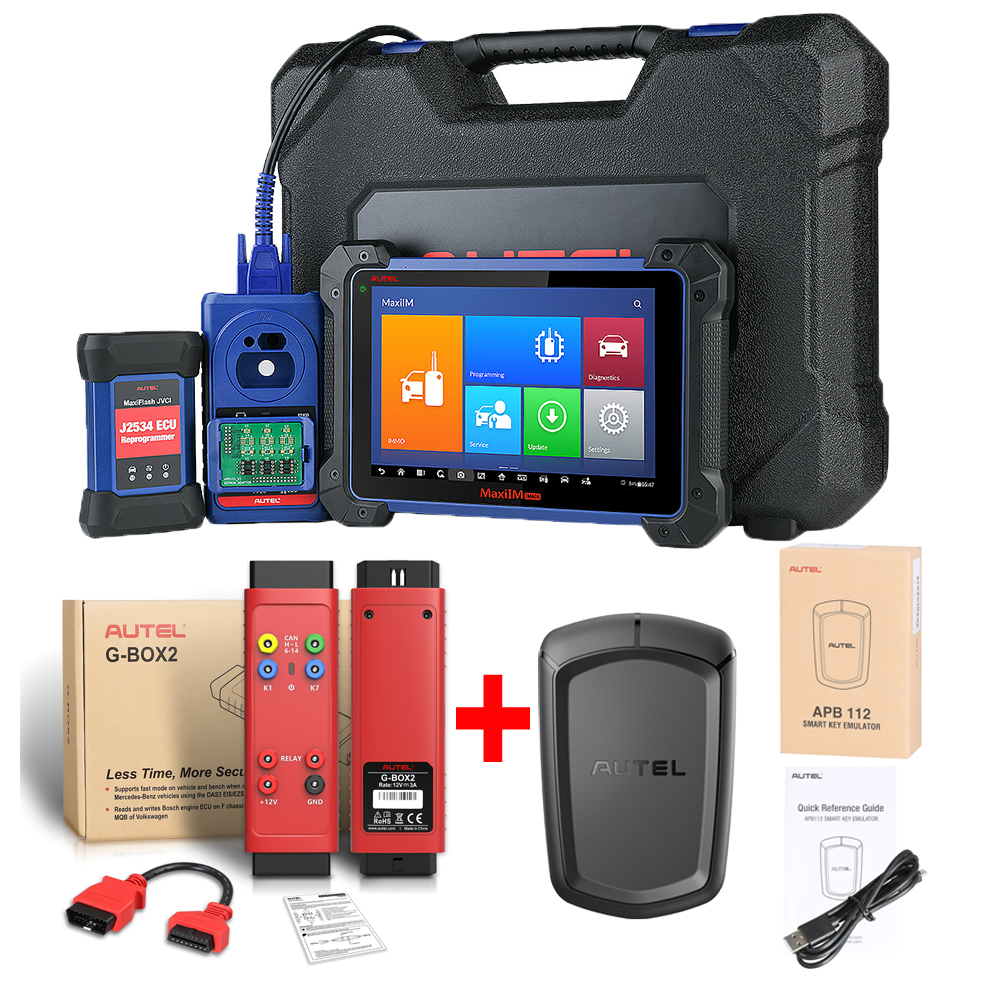 Autel MaxiIM IM608 Main Features :
1.Free Update Online for 1 Year, after one year, it will cost $1100
2.Warranty for 12 Months.
3.ADVANCED IMMO & KEY PROGRAMMING
4.OE-Level Diagnostic and Service Functions as MaxiSYS Pro
5.with XP400 and MaxiFlash JVCI for ECU Programming
6. Language: English, Spanish and French. (We can ship to Spain and France now)
7. Autel have released BMW CAS4/CAS4+ through OBD update!
Kindly Note: Before you make the order , please select which area you will use the tool first , if not select the correct area , the machine will be locked by factory .
( If you use it in USA , please choose Americas Region )
Autel MaxiIM IM608 Features:
Support IMMO functions for over 60 worldwide makes and models.
Support PIN/CS read, transponder read/write/identification, MCU/EEPROM chip read/write and IMMO ECU Reset/Adaption.
Extensive vehicle coverage for more than 80 US, Asian and European vehicle makes.
Complete capabilities for codes, live data, actuation tests, adaptations.
Displays live data in text, graph, analog and digital gauge for easy data review and analysis.
Auto VIN technology can automatically identify the vehicle's make, model and year information in no time.
Quick access for more than twelve common service functions including Oil reset, EPB, DPF, BMS, SAS, TPMS and more.
Cloud-based Data Manager saves customer and vehicle records, scanner data and technician notes.
Remote technical support for convenient demonstration, training and increased customer satisfaction.
Print out recorded data anytime and anywhere with Wi-Fi technology.
Automatic Wi-Fi updates available in new software releases.
Autel MaxiIM IM608 Specifications: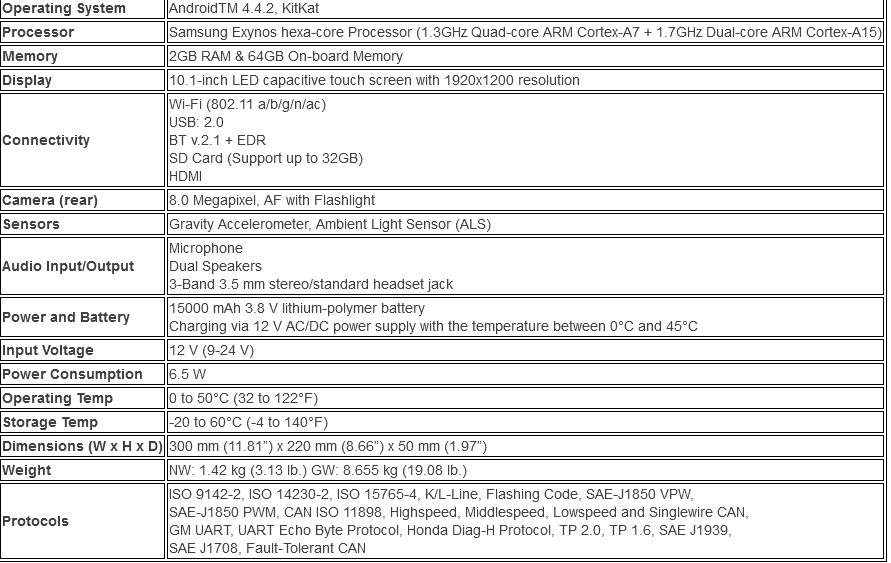 Autel MaxiIM IM608 Functions:
1. Read & Clear Fault Codes | Short description & code provided (can clear faults & warning lights)
2. Service Functions | Oil light / EPB / BMS / SAS / DAF etc
3. Access Live Data | Data from the ECU/Modulesnsors displayed in real-time (Oxygen sensor-rich/lean etc)
4. Actuation/Component Testing | Actuate (switch on/off) to diagnose functionality (relays, fans, locks etc)
5. Coding Functions | Allows you to change vehicle parts that need to be "coded" (Injectors, ABS, starters etc)
6. Flashing/ Reprogramming | Advanced updating/coding of ECU's online through a J2534 pass-through flashing device
7. Advanced Key Programming | IMMO functions, Transponder read/write/identify, MCU/EEPROM chip read/write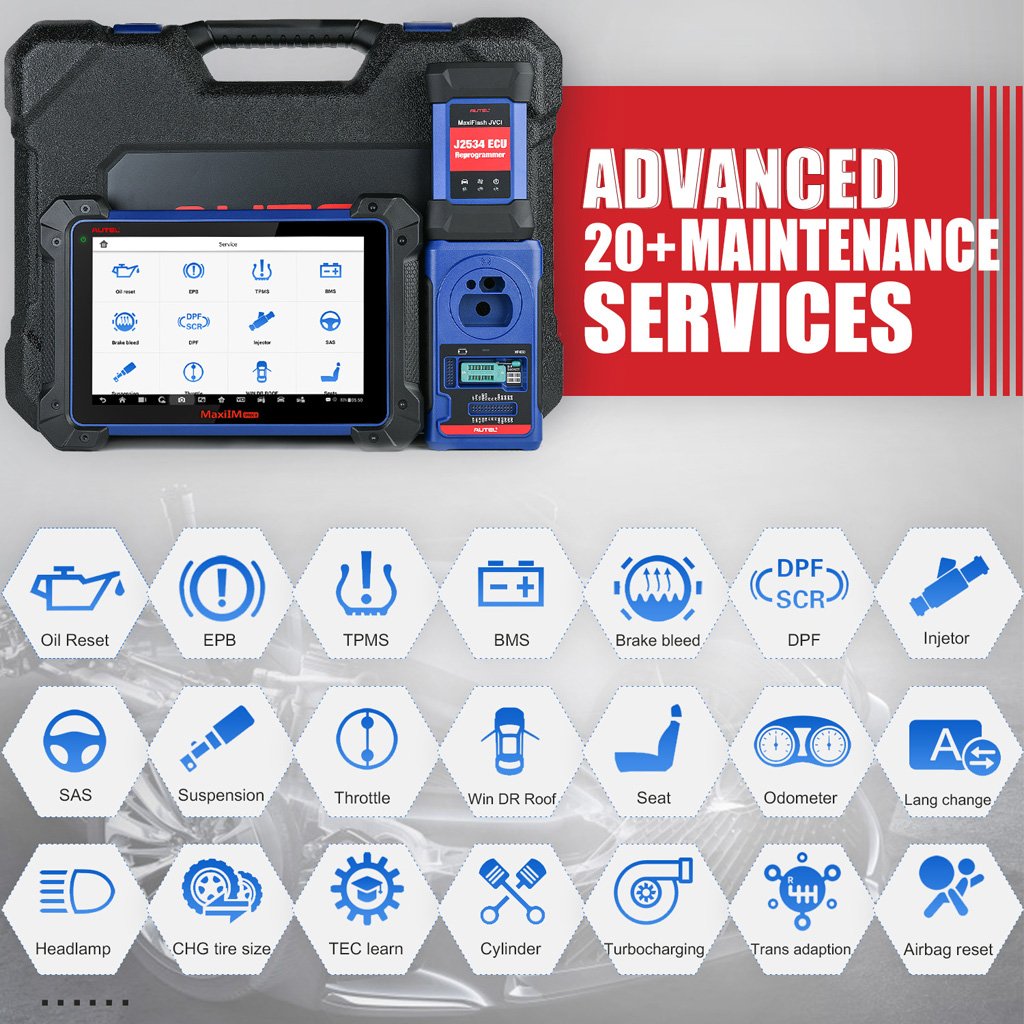 Autel MaxiIM IM608 Main Unit Overviews: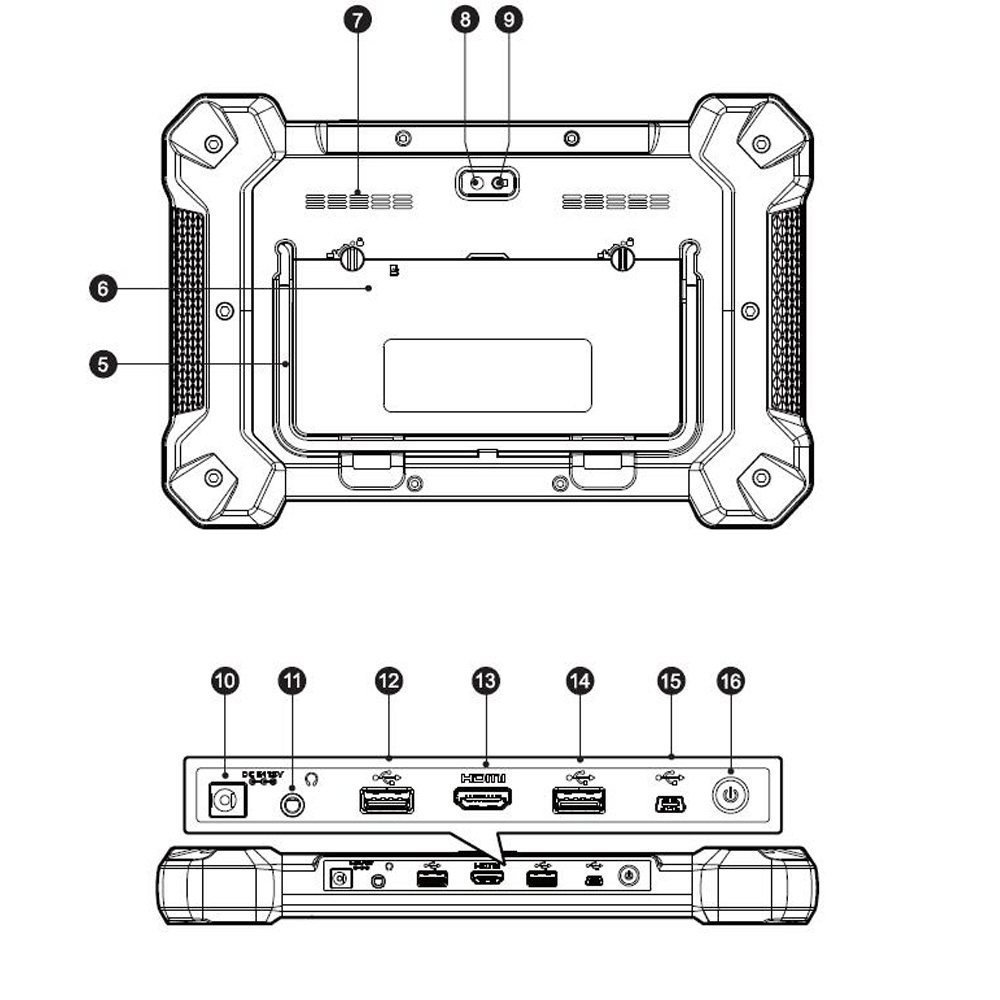 1.10.1-inch LCD Capacitve Touchscreen
2.Ambient Light Sensor-detects ambient brightness.
3.Power LED-indicates battery level & charging or system status.
4.Microphone
5.Collapsible Stand-extends from the back to allow hands-free viewing of the Display Tablet
6.Built-in Bttery
7.Loudspeaker
8.Camera Lens
9.Camera Flash
10.DC Power Supply Input Port
11.Headphone Jack
12.USB Port
13.HDMI (high-definition multimedia interface) Port
14.USB Port
15.Mini USB Port
16.Lock/Power Button-turns the evice on & off with long press,or locks the screen with short press.
Autel MaxiIM IM608 Packling List:
1x Autel MaxiIM IM608 Main Unit
1x APC101 USB Cable
1x APA101 Signal Cable
1x MaxiFlash JVCI
1x APB101+APD101(EEPROM Adaptor+EEPROM Adapter Shell)
1x APA103(EEPROM Clamp)
1x XP400
1x APB102 MB IR Cable
1x APA104 ECU Clamp
1x Main Cable
1x APB104(MCU_FQFP64)
1x APA105(MCU Clamp)
1x USB Cable (2m)
1x APB105 MCU_FQFP80
1x APA106(MC9S12 Clamp)
1x Mini USB Cable
1x APB106(MCU_FQFP144)
1x APA107(Connect Cable)
1x AC/DC 12V Adapter
1x APB107(MCU_FQFP144)
1x Quick Reference Guide
2x Light Fuse 6*30mm
1x APB108(MCU_FQFP176)
1x Packing List
1x Cigarette Lighter
1x APA002(EEPROM Socket)
1x Carrying Case 634*170*404mm
1x AAC001
1x APB112
1x G-box2