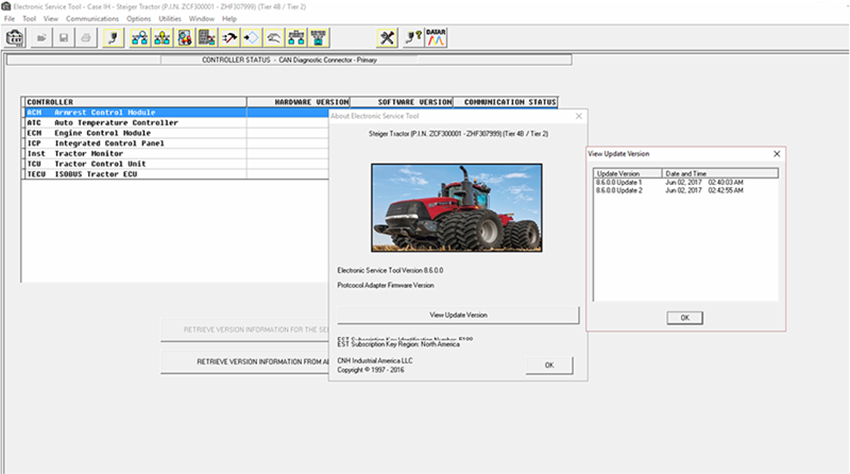 Electronic Service Tool 9.8 (EST) Engineering Level* (software only) – used by New Holland dealer technicians to connect with vehicles that have a Controller Area Network (CAN) BUS.
The brand new version of New Holland CNH EST works with OS Windows 10 64 bit, except Home edition).
2023 CASE New Holland EST 9.8 Electronic Service Tools+Diagnostic Procedures
CNH DPA5 Adapter CASE New Holland Diagnostic Tool with Full Chips
Features:
Type of catalogue:Diagnostic Software
Make: Case, New Holland
Region: WorldWide
languages:English, Italian, Russian, Polish, Spanish, French, Portuguese, German, Dutch, Danish.
OS:Windows 10 64 bit, Windows 11 Pro 64 bit
NOTE: one only pc intallation
Funstions:
Electronic Service Tool allows you to:
• Check status of parameters;
• Retrieve faults;
• Run diagnostic tests;
• Make ECU and parameter programming;
• Monitor active and logged diagnostics;
• View and change ECU configuration;
• View diagnostic procedures and schematics.
• Troubleshoot problems;
• Use assist database;
• Run scope diagnostics;
What's new with EST 9.8.0.0
EST 9.7.0.0 New Features
The release of the Electronic Service Tool (EST) 9.8.0.0 includes several improvements to the service tool software. These changes include:
– EST PC Operating System (OS) and hardware requirements
Minimum Specifications:
Processor:
Intel Core i5 6th Gen Processor or higher (Manufactured in 2015 or later)
RAM Memory:
8 GB or greater
Operating System:
Windows OS: Windows 10 64-bit Note: A 64-bit operating system is mandatory
Hard Drive:
250 GB or greater – Solid State Drive (SSD) is recommended for improved performance
Ports required for adapter connection:
One 9 pin Serial port (preferred) OR USB to RS-232 Converter – (FTDI Chipset) 380003514 – USB to RS232 adapter
– New diagnostic adapter support
The EST9800 base software introduces support for a new diagnostic adapter to interface with CNHi equipment.
EST9700 will support both the DPA5 and CoreXS and allows for easy conversion between these two diagnostic adapters.
To view the connector selection with EST9700, click Communications in the top ribbon.
In the dropdown menu, hover over the Communications Adapter Selection.
– Legacy Diagnostics download and installation
The new legacy troubleshooting database is released and will be available with the EST9800 software.
CNH EST 9.8 2023.03 +ETimGo 8.6 Full 04.2202 software will be installed in a 512GB SSD hard drive . After you get the har didsk , please contact our customer service to remotely activate these software for you