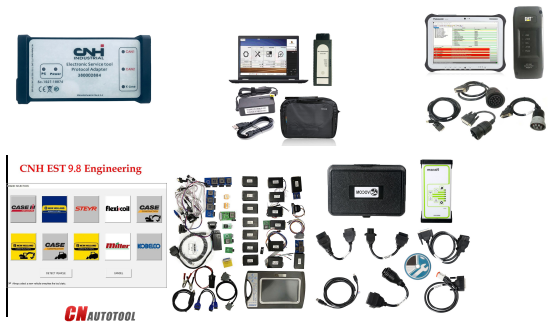 Here are a few of the commonly used diagnostic tools in the automotive industry:
1. volvo 88890300 vocom interface:
The Volvo Trucks Diagnostic Tool Vocom is specifically designed for Volvo, Renault, UD, and Mack trucks. It is used in repair shops, out in the field, at the roadside, or during test drives. The Vocom Interface makes the repair and diagnostic process easier and more efficient. With this tool, technicians can diagnose, test, calibrate, and program vehicles, engines, and machines.
Volvo 88890300 Vocom Interface is a diagnostic application that covers the whole repair process through the use of plug-ins. With Volvo 88890300 Vocom Interface you can diagnose, test, calibrate, and program a product (a vehicle, engine, or a machine).
2. Porsche PIWIS Tester 3:
The PIWIS Tester 3 (PST3) is the newest diagnostic tool in the market for Porsche vehicles. It can read and clear trouble codes, display ECU information, test live data, and program various functions. The PIWIS III is equipped with an original oscillometer and multi-meter function, making it an essential tool for any Porsche technician. It covers all functions of the previous PIWIS 2 tool and supports Porsche models produced after 2002.
1. Piwis 3 With Piwis III Software V42.000.011 + V38.250.000 for Porsch Cars diagnostic & Programming.
2. Piwis 3 with developer mode software Installed Lenovo Laptop Ready To Use, cover all piwis 2 functions.
3. With New DoIP Ethernet diagnostic technology,Supports Porsche Models after 2002.
3. CAT Electronic Technician Tool:
The CAT Caterpillar ET Diagnostic Adapter III is a powerful tool for diagnosing and troubleshooting Caterpillar engines and machines. It helps technicians identify existing and potential problems with electronically controlled Caterpillar engines. With this tool, technicians can display logged event codes, view ECM configurations, perform diagnostic tests and calibrations, and more. It is available in multiple languages, making it accessible to a wide range of users.
What can I do with one CAT Caterpillar ET Adapter III: CAT Communication Adapter III has to work with a computer, and we users can display the status of a group of parameters (temperatures, pressures, etc.) details: 1.Display Logged Event Codes to show engine over speeds, High temperatures, fuel consumption, etc; 2.View ECM's current configuration and change user settings; 3.Perform diagnostic tests and calibrations, and calibrate;4.Electro-mechanical and electro-hydraulic components;5.Context sensitive help leads operator through every task Cat ET can perform 6.Data Logger and Data Log Viewer allows recording of ECM signals for delayed troubleshooting capability. CAT III is available with the language I want: The most important reason why I choose CAT Caterpillar ET Diagnostic Adapter III is that it is available with the language what I want, the language it supports includes: Danish, English, French, German, Italian, Japanese, Portuguese and Spanish
4. New Holland Diagnostic Tool:
The New Holland Electronic Service Tool (CNH EST) is an engineering-level diagnostic software for New Holland equipment. It allows technicians to check the status of parameters, retrieve faults, run diagnostic tests, program ECUs and parameters, monitor active and logged diagnostics, view and change ECU configurations, and troubleshoot problems. The CNH EST is a comprehensive tool for servicing and maintaining New Holland machinery.
5. DSP3 Mileage Correction Tool:
The DSP3 Mileage Correction Tool is a professional-grade tool for adjusting odometer mileage. It is the most advanced odometer adjustment tool on the market and is widely used by professionals. The tool can also perform other functions such as airbag reset, immobilizer programming, and radio decoding. It is compatible with various automotive industry devices and has no limitation on odometer software.
These diagnostic tools play a crucial role in the automotive industry by providing technicians with the necessary capabilities to diagnose, troubleshoot, and repair vehicles and equipment. With their advanced features and functionalities, these tools enhance efficiency, accuracy, and productivity in the repair and maintenance process.