You're a professional mechanic, an enthusiast or and mechanic shop owner? Then you are here on the right page with the in-depth review about Maxisys MS908P, which is only for mechanics.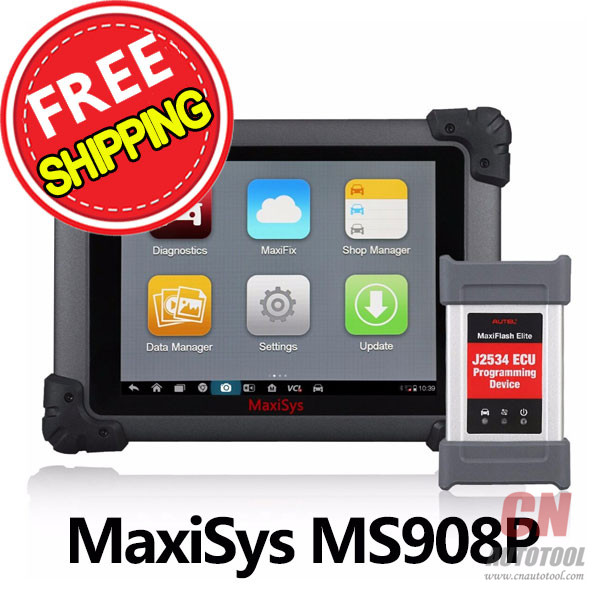 The Autel MaxiSys Pro MS908P Professional OBD2  scanner provides best solutions for ECU programming and Specialized Automotive Diagnosing.Autel MaxiSys Pro MS908P is easy to use with a large pool of features that ensure optimum diagnosis performance.
MS908P is capable of covering all diagnostics that are OE-related. It's the best solution for diagnosing peerless smart vehicle repairs.
Autel MS908P runs on Android OS thus enables you to multitask and manage many applications at the same time. By this you are able to fix a particular part of the engine and at the same time monitor the effects it has on other parts.
The diagnostic scan tool has a wide vehicle coverage, from 1996 onward. It can work efficiently with over 80 vehicle makes in the US, Europe and Asia.
MaxiSys pro Software as well as a reprogramming box is incorporated into the tool to make it possible to solve complicated problems.
The Autel Maxisys Pro MS908P OBD2 scanner enables enhanced vehicle identification, quick and accurate, as with its Auto-Vin technology.
Autel MaxiSys Pro MS908P: Features
1. Super fast diagnosis
It runs on an Android 4.0 OS and has a strong Cortex-A9 Samsung Exynos 1.4 GHz processor which enhances its speed a great deal and allows multi tasking. When powering it on, it takes 20 seconds to boot up, a speed that is approximately 5 times quicker than similar products in the market.
2. Auto-Vin Technology
This is a new technology for quick and precise identification of vehicles that are CAN-enabled with just a single touch. Data is displayed in texts as well as graphs which makes analysis easy and efficient.Once it has identified a vehicle, it not only runs diagnosis of the engine, but on all the selected systems as well
3. Battery Recharge
MS908P is for professional mechanics only. Its 11000mAH-3.7V battery lasts up to eight hours with continuous operation and it's only a few of hours of recharging.
4. Extensive Vehicle Coverage
It is designed to work efficiently on more than 80 US, European and Asian models.
5. Smart Screen
The 9.7 inches IPS touch-screen is LED-back-lit and has a 1024 by 768 resolution thus providing a clear contents display. Multi-touch is also an added advantage with a possibility of 5 touches at a go.
6. Sufficient Storage Capacity
The Autel Scanner MaxiSys Pro MS908P has 2 GB DDR-3 RAM, which comfortably handles large numbers of files and support live streaming without hanging.The 32 GB internal hard drives provide enough space for storing all the clients' detailed history.
7. Autofocus Camera
The 5-megapixel in-built rear camera provides images of high quality with its auto-focusing capability. the camera has a flashlight as well.
8. Easy Printing
The tool enables easy printing using any PC that runs on Windows or a Wi-Fi enabled printer.
9. High-Level Configuration
This diagnostic tool covers almost all OE-Level Diagnostics. This means that OE_level library in the device contains all error codes that are likely to occur.
You, therefore, do not have to contact a car dealer in case of an unidentified error.
10. DataLogging
These sessions are interactive, giving you the chance to contact Autel Technical team directly in case of any challenges with the device.
It gives you easy and unlimited technical support remotely.
11. Compact and Light
The device weighs 28.9 pounds, making it easy and suitable to carry.
Its dimensions are 9 by 18 by 7.6 inches in length, width and height respectively.
12. MaxiFix
This is an additional feature in the cloud which enables users to network and access a database of procedures, repair and diagnostic tools.
You are able to interact with fellow technicians and share knowledge via MaxiFix.
Other additional features include fast data transfer with both Wi-Fi and Bluetooth and notification center for updates and news.