Launch X431 V Bluetooth is a new Android-based vehicle trouble diagnostic device developed for internet applications. it inherits from LAUNCH's advanced diagnosing technology and is characterized by covering a wide range of vehicles , featuring powerful functions, and proving precise test result.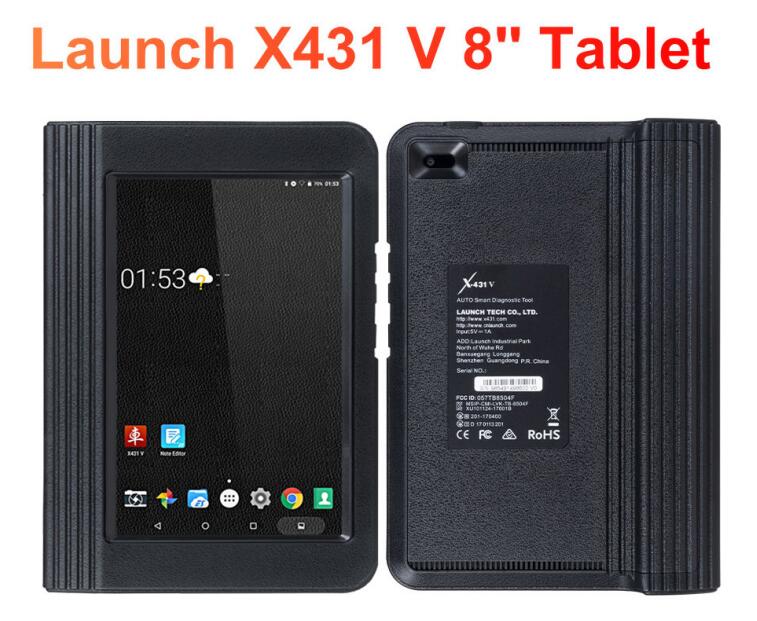 LAUNCH X431 V Original Function:
Full Diagnose Function:
LAUNCH X431 V on CnAutotool.com can diagnose the electronic control system of prevailing vehicle models covering Asian, European, American and China. Full range car models and full car system diagnose make it a professional automotive diagnostic tool.
Diagnosis functions include: Read DTCs, Clear DTCs, Read datastream, Special functions etc;
Connecting by Bluetooth:
LAUNCH X431 V communication via bluetooth, very easy to use.  LAUNCH X431 V Pad computer specially designed for Android platform with clear and user-friendly interface. X431 V Pad computer equipped with an exclusive LAUNCH X-431 V protection sleeve to prevent it from being damaged;
Browser:
Built-in Wi-Fi module makes surfing on the internet freely;
4.Settings:
To configure your personalized X-431 V through it;
Search:
Enables you to locate your target quickly and conveniently;
Email:
Allows you to send and receive email. External POP3 or IMAP email account for some common Web email service provider can be added;
7.File Manager:
You can manage the files or downloaded files stored in SD card efficiently;
Other Additional Functions:
Alarm, calendar and calculator etc.
Applications:
Other android based applications can be customized to install or uninstall.
Launch X431 V Vehicle List:
Changan, Daweoo, Huachen, Lexus,Ford, ZhongXing, Bently,Euro Ford,Jatcy,VAZ,Porsche, QIRUI_TY,Maserati,BMW,GM,Seat,Isuzu,Jinlong, USA Ford,Lancia,Peugeot,Suzuki,HM, Maybach,Luxgen,Toyota,VW,Changan, Audi,Citroen,Honda,Land Rover,Liuwei_TY,XINKAI,BXFIAT,Smart,JPIsuzu,Kia,Renault,
Skoda,Sprinter, Rover,Weili, Bugatti, EOBD,Hafei,Haoqing,Nissan, Xiali, Zhongshun, Romeo,AustFord, Acura, Mercedes-Benz, Changhe,Fiat,Volvo,
Mazda,Zhongtai,Jaguar,Opel, Rolls Royce,Chrysler,Daihatsu, Flyer,Hyundai, BXGM,Subaru, Ssangyong,Ferrari, Infiniti,Dacia,Saab, GAZ,JIAO,Mitsubishi,AU Holden,MAHINDRA,MARUTI,TATA,PROTON, PERODUA(PERODUA),QOROS
LAUNCH X431 V Original DBSCAR Connector Parameter:
Working voltage: 9 ~15V
Average working current: about 35mA
Standby current: about 25mA
Working temperature: -20 to 55 (-4°F to 131°F)
Storage temperature: -30 to 70 (-22°F to 158°F)
Storage humidity: <80%
Working humidity: <60%
Net weight: about 26g
Packing List:
X-431 v pad computer
Password envelope
X-431 v protection sleeve
DBScar diagnostic connector
OBD II extension cable
Cigarette lighter cable
Power adaptor
USB data cable
Non-16pin connector