The Launch X431 V+ scan tool covers a wide range of vehicles as it is compatible with at least 93 car brands and more than 10, 000 car models. This makes it be an ideal auto scanner for professional mechanics and busy car repair shops. Besides, it also has Bluetooth wireless connectivity for wireless connection and easy roaming around the garage floor.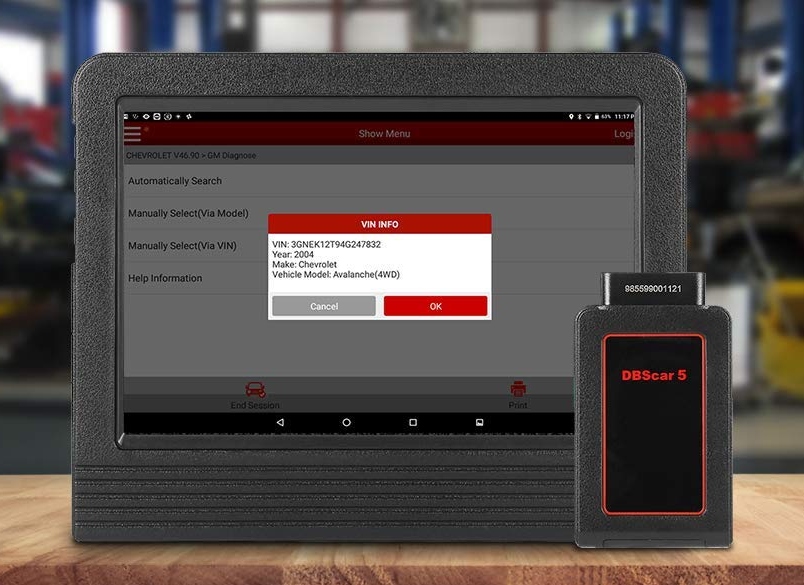 After using different scan tools from different brands, I can say that Launch X431 V+ diagnostic scan tool is one of the most advanced and reliable automotive scanners on the market. It features a large and clear LCD display with easy to use features. It is fast in operation as it uses the Android 7.1 operating system. The Launch X431 V+ is an upgraded version of Launch X431 and Launch X431 Pro Mini. Read this Launch X431 V+ review to know more about this advanced Launch scan tool.
In this Launch X431 V+ review, we're going to discuss all the things that you need to know about the Launch X431 V+ diagnostic code reader. Brace yourself!
Features of the Launch X431 V+ Scanner
Android 7.1 operating system
1-inch display
Complete system diagnosis
Multiple reset services
Bi-directional control
Extensive vehicle coverage
Wireless Bluetooth connectivity
7000mAh battery
11 special functions
2-years free software update
VIN automatic identification
Technical Specifications of the Launch X431 V+ Scan Tool
Features Launch X431 V+
Works Over 68 car brands and 220 car models from America, Europe, Asia
OS Android
Check Engine Light Yes
View Live Data Yes
Active Test Yes
View Freeze Frame Yes
Oil Reset Service Yes
Tooth LearningAnti-theft Matching Yes
ABS,SRS, Body control module Yes
Battery Register Battery Maintenance Yes
Wifi,Bluetooth Yes
Main Brands Skoda, Opel, Citroen, Porsche, Rover, Audi, Chrysler, Dodge, Jeep, Acura, Lexus, Honda, Ford, Nissan, Lincoln, Mazda, etc
Software Update Option Yes, 2-Years Free Update
Warranty 1-year warranty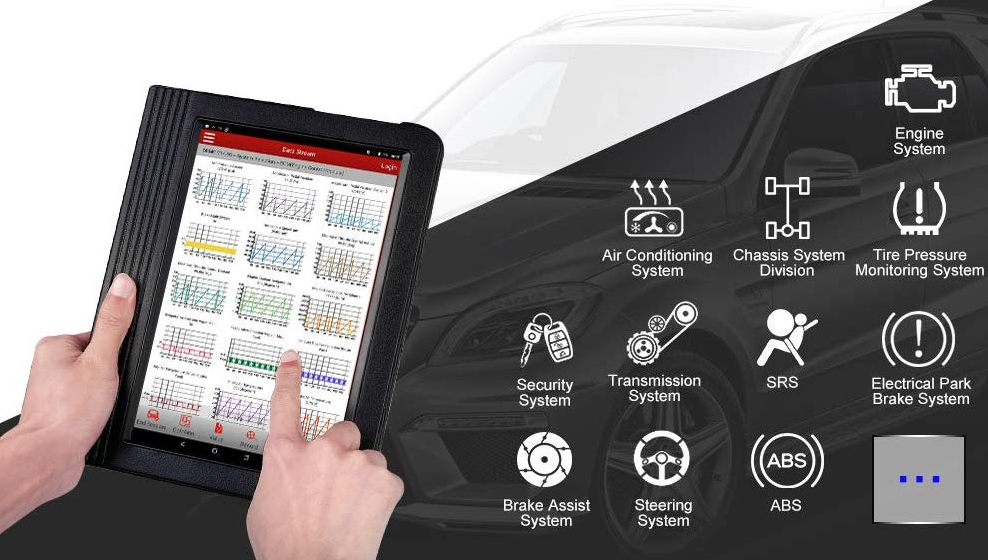 Launch X431 V+ Review 2020
Easy set-up
There is no difficulty or a lot of fuss when it comes to the setup of this diagnostic scanner. The setup process is very easy, the Launch X431 V support team will provide you a registration ID with an activation code. Then, you can utilize your serial number and codes to set up your scanner online.
A wider compatibility
This automotive scanner comes with different adapters and has the ability to cover more than 90% of the vehicle models made in the USA, Europe, and Asia. The major vehicle brands include Porsche, Honda, Ford, Lexus, Skoda, Mazda, Nissan, Audi, Lincoln, Dodge, Jeep, and many more.
Special functions
Apart from performing full OBD2 functions, this scanner can as well perform multiple special functions such as EPB reset, TPMS reset, oil reset, BMS reset, ABS bleeding, ETS reset, IMMO and Throttle matching, DPF regeneration, ECU coding, and Injector. These services help users to safely and effectively access vehicle systems to reset partial parameters' status after repairs are done. On top of that, it can be used for ECU coding.
Wireless connectivity
If you want to perform other functions within the garage and still diagnose the vehicle, you can switch the device to Bluetooth wireless connection instead of using the short cable. The tool comes with DBScar 5 for creating a wireless Bluetooth connection.
OBD2 full functions
Similar to other high-end scan tools, this code reader supports all the 10 OBD2 test modes. Therefore, you can use it to read and erase error codes, view freeze frame data, O2 sensor test, On-board tests, IM readiness status, read and erase DTCs, and much more.
Fast and simple to use
This is one of the fastest Launch scanners on the market. It comes with a fast and smooth operating system to assist tackle problems very fast. Additionally, the scanner gives you instructions as you go, telling you what you want to do and the steps that you should take.
Operates on Android system
The scanner utilizes the Android 7.1 operating system. This makes the scanner to be easy to use just like a normal Android tablet. You will be able to access similar applications that are found on an Android tablet or phone. With this feature, you will be able to have the same functions as an Android phone but at the same time have the ability to power or diagnose engine issues.
All system covering
This scan tool can diagnose all systems. It is the ability to read DTCs and data streams for all systems. For example, transmission, fuel system, body, engine,
powertrain, emission system, and much more. You won't have to buy other tools for diagnosing other systems and you will end up saving a lot of time.
Excellent battery life
The Launch X431 V+ diagnostic scanner features a 7000mAh battery. This battery is powerful and can provide you with continuous use of around 4 to 6 hours, depending on what you use it for.
Durable construction
The code reader is sturdily constructed for longevity.  Additionally, the scan tool is waterproof,
dustproof, and greaseproof. In short, it can survive the tough garage floor conditions.
Internet Updateable
After registering this unit with Launch, you will get 2 years of free online updates. After two years, you will have to pay for the updates. But still, you can use the gadget without updating it.
Great customer support
The launch has an outstanding customer support service that will help you get started and update your device. Also, you can call them before acquiring the gadget to know if it's is compatible with your vehicle.
What we did not like about the Launch X431 V+
Counterfeit devices – many mechanics and DIYers have reported the availability of counterfeit devices. So, before you purchase a Launch code reader, ensure that it is not counterfeit. Always ensure that you buy from a genuine Launch dealer.
Multilingual faults – if you intend to change the default language from English to a language of choice, know that the translations are not always accurate. This is because the scanner is not proficient in all the languages.
Quite expensive – when compared to other quality scanners with similar features and functions on the market, the Launch X431 V+ scan tool is somehow expensive. So, this might not be an ideal code reader for DIYers, beginners, and small auto repair shops.
Bottom line
As vehicles advance, so do diagnostic scanners. The Launch X431 V+ comes with some exceptional features and functions that will allow you to reduce the cost of car repairs. It is suitable for professional mechanics and serious car enthusiasts. It is also easy to use and operates smoothly.
Furthermore, the code reader is compatible with a wide range of vehicles manufactured from 1996 and newer. Its intuitive user interface makes using this device to be easy. It has a long cord that will ease your work and you won't have to strain a lot. With Bluetooth connectivity, you will be able to diagnose your car even when outside.
If you have been looking for a reliable, fast, and easy to use the diagnostic scanner, then the Launch X431 V+ is a great tool for you. The manufacturer offers 2 years of the free online update, and it is extremely portable. Use this device on different car makes and models in your auto repair shop or garage. I hope this Launch X431 review article will help a lot to make a buying decision.
FAQ
Question Does this scan tool work on all diesel vehicles
Answer No, it doesn't. The Launch X431 V+ scan tool functions on some 12V diesel vehicles, but not all of them. To know if it works with your 12V diesel vehicle, you should email your vehicle details (VIN, vehicle model, and year) to the Launch support team.
Question Can I use this diagnostic code reader to perform crank position relearn and idle relearn on a 2007 Subaru 2.5
Answer Yes, it can. In addition, it can perform other functions like crank position relearn, throttle match, key match, SAS reset, Injector program, EPB reset, Oil light reset, battery match and TPMS reset.
Question Will this program the ECM and BCM (replacement unit)2013 Chevrolet silverado 2500HD diesel
Answer launch x431 scan tool cannot program ECM and BCM; However, it can configure the ECM.
Question I got a Launch 431 V + but it doesn't feature or read light duty cars. I wonder why How can I solve this problem
Answer Contact Support. Only official Launch support team can help about this.
Question Does the x431 mini perform 2008 gm 6.0 engine cs sensor relearn
Answer Yes
Question Which tool can do the re-programmed and how is launch V8 compared to V+
Answer Launch X431 V+ diagnostic scan tool is an upgrade version of LAUNCH X431 V (Here version is V and 8 means 8-inch tablet).V+ can do reprogram, but V cannot do.
Question What about tpms, does lunch x431 v+ fix the tyre sensors as well
Answer X431 v+ will scan the codes for the tpms, and set the car in learn mode.
But it will not scan the sensors in the tires and write them to the vehicle.
Question I work on a lot of supercars. Can this scan Ferrari and maserati
If so , Can it also carry out basic procedures such as throttle relearn, clutch position adjustment (pis point) or service resets
Answer Yes, It works on both vehicles. And X431 V+ can do those tasks.More information about Launch X431 diagnostic tool, please visit our website sale@cnautotool.com