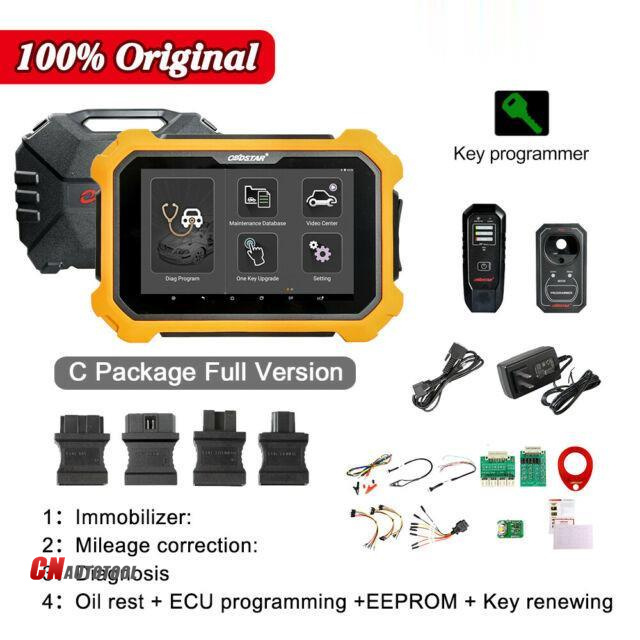 Here share the latest OBDSTAR upgrade info for X300 DP/ X300 DP PLUS  Tablet Key Programmer owners.
The upgrade highlights are that add the anti-theft function for the newly added Chrysler models, and the car year is newer. Also add 612 models of Fiat. The odometer correction highlight is Ford models, which are newly added with new car year.
Learn more upgrade info for OBDSTAR X300 DP Tablet Programmer and X300 PAD2 as below!
IMMO
VW
Optimized the key learning function
Nissan
Increased 12-digit Pincode smart key system type3
Increased 12-digit Pincode IMMO system type3
BAIC
Optimized Senova D50 key programming
Optimized Hyosow S6 smart key programming procedure
Increased BAIC new energy EU5 smart key system group 2 Initialization enter into system scanning mode
Ford
Optimized Courier (Tourneo Courier) key programming
Optimized Ecosport Pincode algorithm in key programming
Optimized Kuga Pincode algorithm in smart key programming
Chrysler
1.New Increased:
300/300C (2015-2017/2018-), 300 (2019), PACIFICA (2018/2019)
VIPER (2015-2017), CHALLENGER (2015-2017/2018/2019), RAM (2018)
CHARGER (2015-2017/2018/2019), DURANGO (2014/2018-2019)
WRANGLER (2018-2019)
2.Increased 2017- Renegade smart key system
3.Increased 2017-2018 Compass smart key system
4.Increased 2018-2019 Grand Cherokee smart key system
5.Optimized 300C (2005-2006) (2015-2017) function menu
6.Optimized US-Canada area 2014-2015 Grand Cherokee key programming
7.Optimized US-Canada area 2015-2016 Renegade key programming
8.Optimized US-Canada area 2008 Grand Cherokee key programming
9.Optimized US-Canada area 1998-2000 300Mkey programming
security algorithm
Mazda
1.Increased 2017- CX9 smart key programming
2.Optimized 2018 CX4 smart key system ignition on function
3.Optimized 2018 CX4 smart key system all keys lost programming procedure
Renault/Dacia/ Lada
Optimized Megane
Optimized 2012 Fluqnce flipkey
Optimized 2015 Dacia Logan key programming
Great Wall
Increased data index ID
Solved Haval H6 2017- smart key programming failure
Fiat
1.Increased Ferrari 612 Scaglietti and California
2.Optimized 2016- Maserati smart key IMMO data reading
3.Optimized BSI_MARELLI_70F3633_95320 type EEprom reading
4.Revised Iveco key programming type LIER_BCM and DELHP_IMMO prompt text
Venucia
Increased and optimized D60 smart key system
Foton
Optimized Tunland remote system
Increased the help data ID
Geely/SMA/Englon
Optimized Emgrand EV450 UMC smart key system
GM
Solved Excelle 2018- prompt 7F E3 problem
Solved GL6 2017- security verification failure
JMC
Increased the data ID
Honda/Acura
Increased the data ID
Luxgen
Increased the data ID
Roewe/MG
Increased the data ID
Increased Roewe E50 IMMO system
Increased Roewe RX8 IMMO system
Increased Roewe Ei5 IMMO system
Increased MG GS smart key system
Increased MG MG6 smart key system
Increased MG ZS smart key system
Increased Roewe 750 (new) IMMO system
Optimized Roewe RX3 IMMO system (non-smart)
Cluster Calibration
Ford
Revised FOCUS 2018- to be FOCUS 2019
Optimized 2017- Ecosport cluster calibration procedure
Increased 2017- EcoSport/ 2017- Carnival/ 2018- Focus/ 2018- Transit Custom
Great Wall
Increased Hover H6 and H8 cluster calibration function
Mercedes-Benz
Optimized Benz B series W245 cluster calibration function
Peugeot/Citroen
1.Shielded the Citroen C5 menu
2.Increased the model'help' index
3. Shielded Citroen BSI_P0X extra function menu (recover FLASH)
VW/ Audi/ Seat/ Skoda
Updated the function of automatically recognize the dashboard type
Kia/ Hyundai
Optimized the algorithm file of encrypted chip
APK Software
Increased JavaScript in Help section, support the online automatic multi-language translation