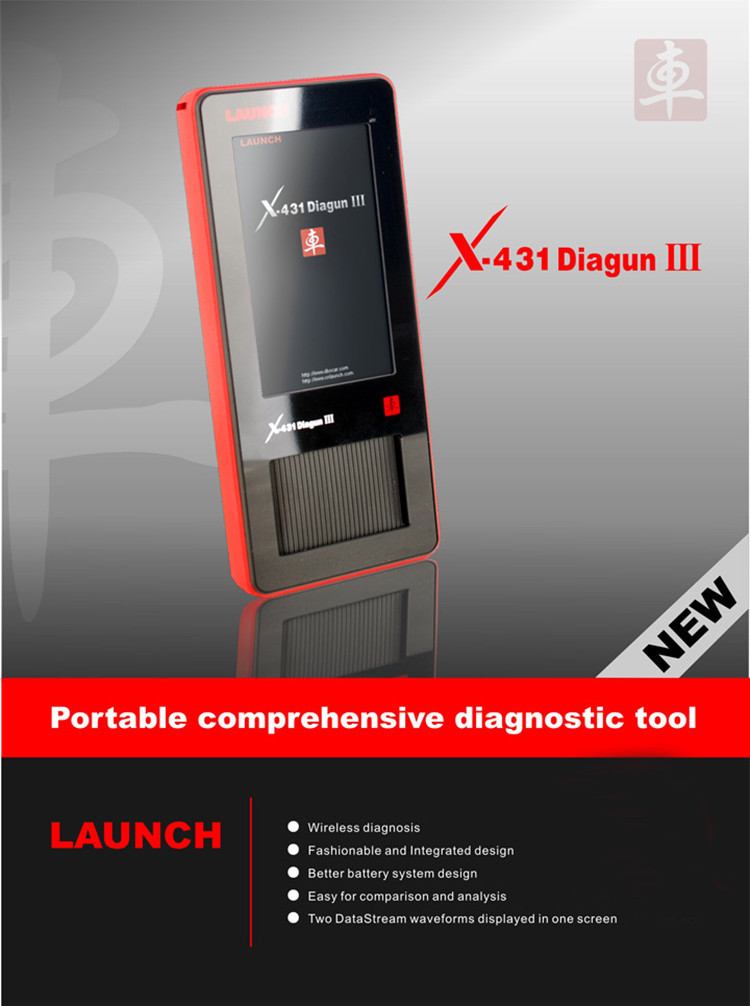 Launch X-431 Diagun III is a newly developed diagnostic computer with full color display screen. By communicating with the powerful DBScar diagnostic connector via Bluetooth or cable, X-431 Diagun III can test almost all the domestic cars and the imported ones from Asia, Europe and America. Meanwhile it features high quality test, upgrading fast any where at any time and synchronized with the newest international models. It's more credible in quality and performance when compared with other products.
Features:
global scale can be used
Powerful diagnostic functions
Wireless diagnosis
Fashionable and Integrated design
Better battery system design
Easy for comparison and analysis
Two DataStream waveforms displayed in one screen
FAQ:
Q: Why the LCD touch screen responds so slowly in cold weather?
A: It is because the ambient temperature is close to the lower limit of operating temperature range (0-50℃). In this situation, it is necessary to warm up the machine for 30 minutes before test.
Q: Why there is no character on the backlit screen?
A: Check if the power is well connected. Turn off the machine, unplug it and then plug it again for power supply, one second later, try to turn on the machine.
Q: The screen does not respond or responds incorrectly when click with stylus.
A: It is necessary to calibrate the screen. Please see chapter 2.5.2 "Calibrate Touch Screen" for details.