FC200 supports 4200 ECUs/EGS, covers 80% of models in the market. No open shell, no punch, keep the original parts.
Data loss prevention, automatic verification, 100% accurate analysis of BMW ISN code, supports VIN code modification, and data cloning of various models
Exclusive support for DTC shielding and function shutdown, exquisite design, adapt to various operating environments, FC200 is your trusted auto repair assistant
2022 CGDI FC200 ECU Programmer & ISN OBD Reader
CG FC200 Highlights:
1. Supports 4200 ECUs/EGS, covers 80% of models in the market.
2. Read BMW ISN Code by OBD, perfectly replaces CG AT200
3. Original from CGDI and free Update Online for 1 year, subscription is $125/ year
4. Multi-Language: English, French, Spanish, Polish, Traditional Chinese, and Simplified Chinese
5. Bosch search: Free to find out the ECU type
6. 3 Operation modes: With CAN-bus, No disassembly (platform mode), and Boot mode
7. Full Version with All License Activated, No extra charge。 Software version: V1.0.4.0
8. Supports key programming with CGDI BMW, VVDI 2 Full, Mini ACDP, AUTEL IM508, IM608 Pro, etc.
9. Supports connection by Bench, Boot, OBD
10. Calculates checksum online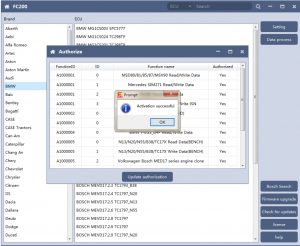 CG FC200 ECU Programmer V1.0.9.0 Software Update
1.Added GM ECU: E38, E39, E67 (ECU Note: please update the authorization for the first time, and then restart the software)
2.New gearbox computer: ZF_9HP
3.Added Bosch engine (platform mode) : MD1CS018, MG1CS032, MG1CS026, MG1CA920, MG1CA007, MG1CA811
4.Added engine with modified VIN function: EDC17C42, EDC17CP27, MED17.8.2, MEVD17.2.7
5.Added the American version of BMW 28A0 and 101F fault code shutdown function
6.Fix the abnormal display of software service time
7.Fix some bugs and optimize software performance
CG FC200 ECU Programmer Functions
1. Original Parts Protection
FC200 supports OBD and platform mode for more than 98% ECU and EGS, no need to open shell, no punch, protect original parts of the vehicle. FC200 not only supports BMW ECU but also supports over 3000 ECUs like KTAG + Kess, Kessy, Dimsport, etc.
2.Smart Identification
The "identification" function can help you diagnose whether the ECU module is communicating or not, and check if the wiring is correct or not.
3. Module Clone
Supports ECU/EGS reading& writing and modules clone no need synchronization matching and online programming
4. Read & Write ISN
Supports all BMW series (including Mini)  ECU ISN code acquisition, convenient for all keys lost matching and anti-theft fault maintenance. Quickly solve the problem for data collection of BMW all key lost.
5.Write VIN
Solve the problem for double VIN or VIN mismatch of vehicles
6. Data Processing
Supports data analysis and modification for the 4th and 5th generations of Audi/Seat/Skoda/Volkswagen ECUs
Turn off anti-theft system for Bosch MED/EDC17 series ECU
TPROT off function of Bosch VAG MEDC17 series, BMW/Mini MEVD17/EDC17 series, Hyundai/Kia EDC17/MED(G)17 series.
Packing List
1set X CGDI FC200 ECU Programmer
For detailed instructions and operation methods, please see the attachment: FC200 User Manual
FC200 Support ECU List